Here's a list of products that I'm currently obsessed with. They are from various categories that may vary from month to month. Check out my April 2018 favorites!
---
Skin Care
As you all know … I'm obsessed with skin. Finding products that work and achieving naturally glowing and healthy skin are my #GOALS. Finding products that work and are affordable? Almost never happens! I know I've professed my love many times for, beloved Korean skin care brand, Koh Gen Do. Their Spa wipes, Moisture foundation and Gommage gel are some of my #holygrail products. So when I found a product that is a more affordable version of the Gommage gel I had to try it.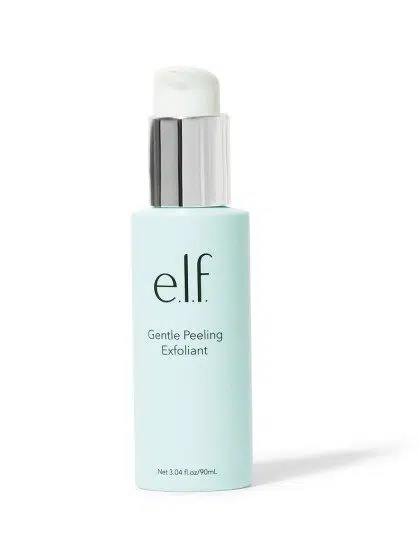 What is the Gommage gel, you ask? It's a gel, obviously, that you rub on your dry face that instantly breaks down all the dead and dry skin right before your eyes. It's both gross and extremely satisfying at the same time. After you rub it all over your face, it will be covered in little balls of dead skin which you clean off with a washcloth. I do this at least once a week.
This is my less harsh version of using a physical exfoliator, like a Clarisonic. I feel that's just too rough on my skin and can lead to break in the skin barrier or broken capillaries (which lead to overall redness). By gently removing all that dead/dry skin, I've prepped my face (or hands/feet) for whatever skin care items I follow up with. I find that my skin more readily and completely absorbs products after doing this and is softer and more radiant.
I finally found a more affordable version of the Gommage gel at E.L.F. (eyes lips face). Their version costs $10 instead of $48 and is readily available at many retailers. As I've mentioned before, I don't only use this product on my face. I use it on my hands and feet for a quick mani/pedi action between salon visits to break down haggard looking cuticles and heels. At only $10, this E.L.F. Gentle Peeling Exfoliant is totally worth it!
---
Makeup
As I've gotten older, I prefer a more naturally enhanced makeup look rather than full on glam. Reason being I don't want to have to spend too much time doing my makeup and because that's just the vibe I'm into. I've tried almost every foundation out there in search of that PERFECT one. A foundation that provides coverage but makes my skin look like skin, that lasts a long time but isn't matte and that feels like nothing but doesn't smudge off. That's not too much to ask right?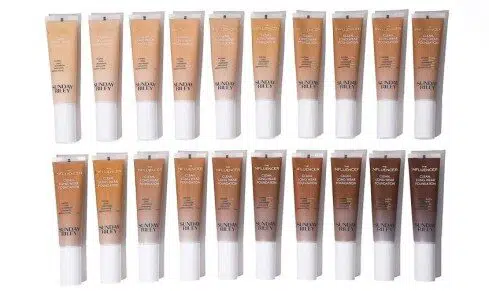 When I heard Sunday Riley was coming out with a foundation I was extremely curious. I knew they had a cosmetics line previously but discontinued it because it didn't fit into their brand. This made me wonder why they were branching out into cosmetics again. Although I don't have an answer to that question, I do know that I'm glad they did take this step. I've been using this foundation consistently for a few weeks and WOW. That's all I can say. It checks all those boxes I have for an amazing foundation.
It is extremely lightweight; I feel like I have nothing on. It's easy to layer and build coverage without ending up looking caked on. It wears for a good amount of time – I'd say 7-8 hours before needing some powder (I'm combination normal/oily) and didn't separate on my face in oily spots. It applies as a satin/natural finish on my skin type and gets more dewy over time (not oily). I can't say enough good things about it.
There is a pretty good shade range (20 shades) and I found a good undertone match but in a shade that's a little too light for me, so I do need to mix two shades. This doesn't bother me because the price isn't outrageous and you don't need a lot to cover your whole face. Even one whole pump is a little too much for my face. I believe Sunday Riley's Influencer foundation, $42, is exclusive to Sephora. I'm mixing 3/4 pump of shade 140 with a 1/4 pump of shade 170 right now.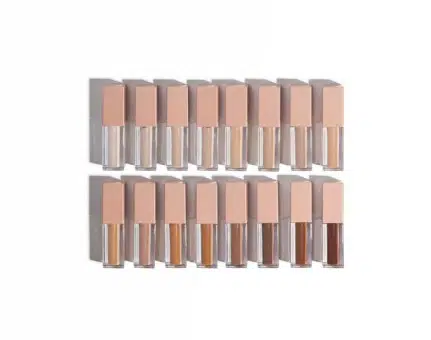 Another makeup find is the KKW Beauty Concealer, $18. I'll be honest – I was extremely doubtful about this product when it first came out. I had just written about my NARS Radiant Creamy Concealer combo and was skeptical that this would be comparable. Well …. I was wrong.
This concealer is really really good. It has great coverage but isn't heavy. It's very lightweight and easy to blend out as well. There are 16 shades in the range and I've read that people felt that this wasn't enough. I do feel that maybe there could be a few more on the dark end of the range but that all in all, it's pretty inclusive. Having a makeup artist background, it's easier to have a few key colors and mix them to your needs rather than have a million different colors. But I also understand that if you have extremely deep or fair skin – there is no mixing to achieve them. Hopefully she'll come out with a few more shades. I'm using shade 5 and I'm pretty fair at the moment right now but I think it will look good even when I have a tan.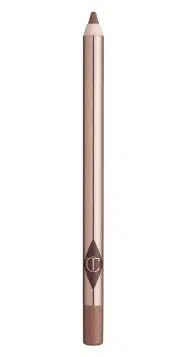 The final makeup item is one that I never thought I'd be so attached to. LIP LINER. I am totally not a lipstick person because I don't want to be worry about keeping something on or if it's on my teeth. BUT I do like faking the funk.
Meaning – I'm still contemplating whether I should get a little filler in my top lip to even them out and while I go back and forth – I'll just keep over-lining my lips. I've gone through so many nudes shades, so many different formula pencils; all looking for a shade that matches my lip color, that applies smoothly and lasts for a good amount of time. Charlotte Tilbury's Lip Cheat,$22, in Iconic Nude is the one.
I literally have one in my bathroom, one in my purse and one in my work bag. It's that good. I have tried Pillow Talk but I found that color was too pink for my tastes but there's a wide range of shades and colorstories in her lipliners.
---
Home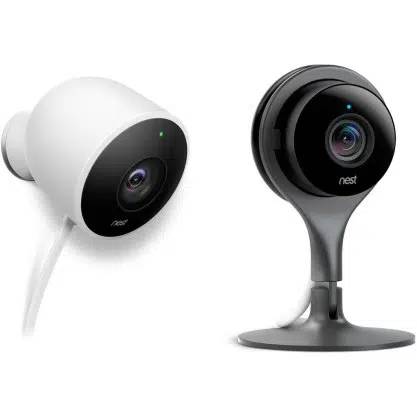 Since we moved a year ago, I've been getting used to our new neighborhood. While it is a lot quieter than our previous one, there are a lot of solicitors. SOOOO many people come up to our door. I don't know why but they give me serious anxiety. I'm just not down with strangers coming up to my door. I refuse to have one of those ugly metal security doors because, well, they're ugly. While we do plan on building a fence around our yard with security locks, we haven't done it yet. So I invested in some home surveillance. Nest cameras were the best I've found (although the Best Buy salesman was trying to talk me into another system that included security) for what I need at the moment.
They are easy to set up and instead of drilling holes, I use Command tape to attach them to the wall and have never had a problem. The picture is great and I can easily zoom in on spots. The app is pretty good too. At times, I've noticed I can't see a live feed but I feel that has more to do with the WiFi I'm connected to than my camera. It's a pricey purchase but it has made me feel so much safer when I'm home alone or when I leave my dogs at home. Being able to monitor what's going on is worth the price!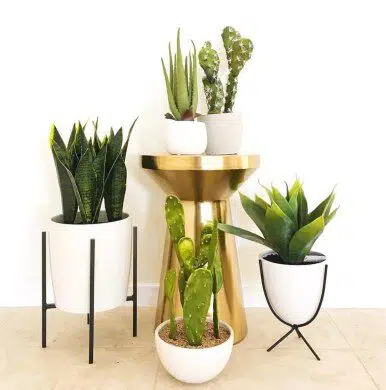 The next home item is one that I never imagined myself having. I always associated faux plants in the home with ugly fake flowers in vases with fake water, covered in dust. That is my home nightmare. It's so obviously fake and doesn't even look good because it's not maintained. I do have a lot of real plants in our home but being that our home is a lot bigger it's getting more difficult to maintain all those plants.
ENTER → Faux Plants. I plan to write a more extended post on faux plants and how to pick them but I wanted to show some love to them because when you find some good ones, they make decorating that much more uncomplicated. Because they're fake, it's so easy to transfer them from one pot to another or completely pull them out and make a realistic terrarium out of them. Not to mention having plants in places that real plants couldn't survive is such a bonus!
---
CLothing
I'm a pretty casual person. I'm usually in jeans and a t-shirt and my shoes are either Vans or flip-flops. Since I can remember I've always had issues with my feet, or more specifically, my ankles. I have a history of sprained ankles due to my constant sports activity in high school but it's actually gotten worse as I've grown older. Most recently I totally ate it at work. What happens is that I put all the weight on the outside of my foot and occasionally my ankle will give out and down I go. I very rarely wear heels and this is part of the reason why. Can you imagine this happening while in 6 inch heels? Well, I've done it and it's extremely painful and dangerous. I'm surprised I haven't broken an ankle, an arm or my neck.
ANYWAY, I digress. So I fell at work and while my manager was grilling me if I had slipped or not, one of the physicians came up to me after hearing my recall of the event. He asked me if I have high arches, which I do, so bad that I actually can't wear those Dansko shoes that most nurses wear. Reason being my high arches were bruised by the stiff leather of the shoe. I actually walked out of work in my socks because I couldn't take it anymore. So this doctor told me I needed to wear insoles and went about his merry way.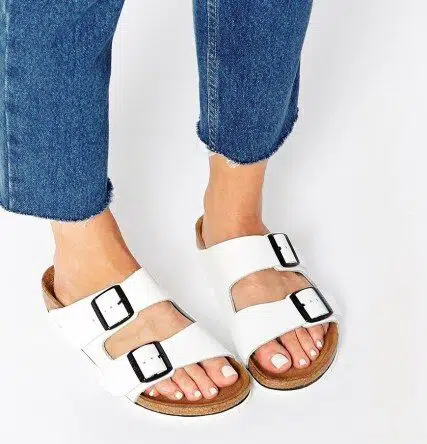 Me being the Google search master that I am, I started doing research. Turns out he was right. People who have high arches over-supinate (place weight on the outside of their feet) which leads to exactly what had been happening to me. If there isn't good arch support it get even worse. Considering Vans and flip-flops offer pretty much NO support – I was making my situation even worse.
So I got these insoles for my work shoes. WOW. My legs and feet didn't hurt as much as they usually do and my balance felt a lot stronger. I did some more research and found that Birkenstocks are great shoes to wear because their sturdy sole provides great arch support. So I went out and bought a pair. A cute pair though – white leather! I never thought people would care but in the few weeks that I've been wearing them – I've had so many people come up to me and ask me about them! I got mine on Amazon for $100 and, let me tell you, they are so worth it!
*TIP: They are in European sizes and are a little short – so size up! I wear a 7-7.5 and got a 38*
---
New Opportunity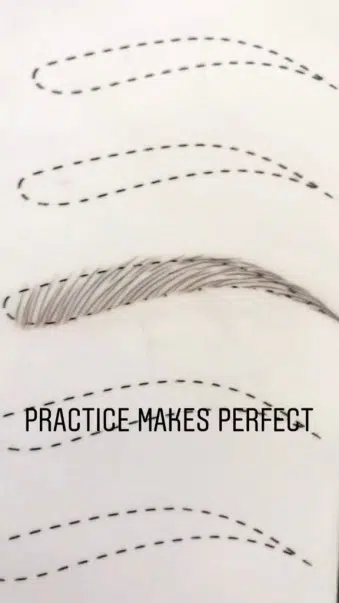 If you've been watching my Instagram Stories then you may already know this but I've recently been trained in microblading! I've been thinking about it for some time – I pretty much do this look every morning on my own eyebrows. I'm constantly asked where or who did my microblading.
My close friend, Bree, owns Black Diamond Tattoo and has been pushing me (for over a year!) to learn so I can work out of her shop. I hesitated because training can be costly and I wanted to learn from someone who's style mirrored my own, not Instagram brows.
Then Haley Buckner, my friend and old boss, mentioned that she was going to start training. I immediately messaged her and got the details. She is the only person who I've seen that makes her client's brows look natural and fluffy without being super obvious that it's microblading.
I've completed my training and am excited to start doing this as much as I can. I will be creating a page on this website for scheduling and stuff like that but follow along at VZBrows (Facebook/Instagram) for now to get more updates!