Do you know what to get the person who has everything? If you're having trouble thinking of the perfect gift, you're not alone. It can be hard to come up with something uncommon or individualized that doesn't cost a fortune but yet will surprise the person you are buying it for. But don't worry, there are some affordable and heartfelt gifts that anyone would love.
Searching for presents can be a very personal experience. When someone receives a gift, it shows them that you took the time to select it and that you cared about their interests. Sometimes, the most special gifts are ones that we subtly prepare ourselves. If you're searching for a memorable and thoughtful gift for someone who enjoys drinking, you should consider buying them booze or things related to it. Alcohol is one of the most commonly enjoyed presents on birthdays and other special occasions, so it's sure to please anyone on your list.
Remember to think about their interests and favorite drinks when shopping for alcohol lovers! If you are looking for unique alcohol gifts for loved ones, there are many affordable and thoughtful options available. Just be sure to consider their personalities and interests before settling on something.
If you're like most people, booze is an essential part of your social life. And while you might not think twice about sharing a nice bottle of wine with a friend, liquor can be a little more complicated when it comes to presenting the perfect gift. And if you need some inspiration, take a look at our list:
1. Beautiful set of personal glasses or liquor bottles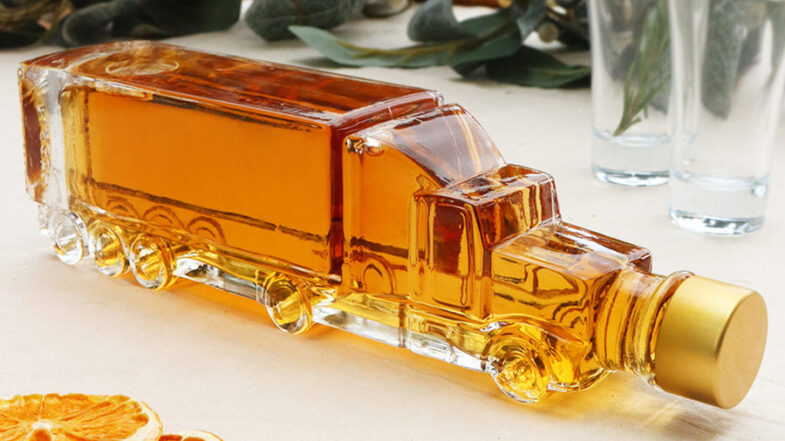 One great option is to give personal glasses or liquor bottles as a gift. These are great alternatives to traditional ones like flowers or chocolate bars. They are one of a kind and can show the person that you took the time to think about what they might want. Additionally, they can be personalized with the recipient's name or initials. They are stylish and practical and can be customized to make them even more special. If you're thinking of getting someone something like this, don't hesitate – they sure will appreciate it!
2. Nice bottle of whisky or scotch
When a loved one is celebrating a special occasion, what do they like to drink? For many people, it is whisky or scotch. It's seen as being classy and sophisticated. But how do you know if the person you are buying it for likes whisky or scotch?
A bottle of whisky or scotch isn't just an expression of love. It can also mean that the person receiving the gift is considered important or special by the giver. You might be wondering what type of whisky or scotch is best for someone who likes to drink alcohol. The answer depends on their individual taste. When buying a bottle of whisky or scotch, remember it's important to consider the recipient's taste and preferences. Some people enjoy whiskey neat while others prefer it with a bit of ice and water added. Do your research and find the right gift for the person you are giving it to!
3. Rare and tasty distilled spirits such as bourbon
Bourbon whiskey is a type of distilled spirit that is made from corn, which is then mixed with other ingredients like water, yeast, and sugar. During the distillation process, certain flavors are lost and other new ones are created. This makes for a very particular and tasty distilled spirit such as bourbon. If you're looking for a gift that will leave a lasting impression, bourbon whiskey should be at the top of your list.
4. Gin-flavored liquor
Gin is a well-known liquor that has been around for centuries. Although everyone loves drinking gin, some might not be aware of its other purposes. The gin-flavored liqueur is perfect for making an exclusive and unusual gift that someone will appreciate. Many people enjoy it, but some might not know of its other uses – such as as a gift. This liqueur is perfect for making a present that someone will appreciate. Gin can be enjoyed in whatever way you like it – straight up, on the rocks, or even in a martini. For those who are looking for an amazing gift option, this is a perfect choice.
Making and giving gin-flavored booze as a gift is a great way to show someone how much you care about them. Not only is it an interesting and flavorful beverage, but it's also a thoughtful gesture. Giving someone something they love (even if it's just alcohol) can make them feel special and loved. So if you're looking for an interesting gift idea, consider giving someone gin-flavored liqueur.
5. Liquor-infused gummy bears or hard candy bars
Gifting liquor-infused gummy bears or hard candy bars is a popular way to celebrate special occasions like birthdays, Valentine's Day, and New Year's Eve. What do you do if you don't know the person's preferred alcohol type? Liquor-infused gummy bears and hard candy bars are becoming increasingly popular as unique presents.
These candies have been infused with liquor such as vodka, bourbon, or rum and provide a fun alternative to more traditional options. Not only are they a fun way to spend time with friends and family, but liquor-infused gummy bears and hard candy bars can also be customized depending on the recipient's taste preferences.
If you are looking for one of a kind gift that your loved ones will love, gummy bears and hard candy bars infused with alcohol are an excellent choice. Plus, because they can be customized based on the recipient's taste preferences, they make great gifts for anyone in your life!
6. A bottle of quality wine
Someone who enjoys drinking wine should definitely invest in a good-quality bottle. Not only will this bottle last longer, but it will also be worth more in the long run. When buying a bottle of wine, look for something that is made from quality grapes and has been aged appropriately. Brands like Moscato and Pinot Grigio are both great options for any wine lover!
7. A bottle of sparkling wine
If your friend loves sparkling wines and alcohol together, a nice bubbly gift is always appreciated. Not only does sparkling wine taste great by itself, but it can also be paired perfectly with different types of food! Look for something light and fruity like Prosecco or Chilean Sauvignon Blanc for maximum enjoyment!
8. A starter set of cocktails recipes
For the next one, if your friend loves cocktails but doesn't know how to make them himself/herself, consider giving them a starter kit containing all kinds of cocktail recipes. This will teach them about the basics of mixology and give them the opportunity to create their own delicious cocktails day by day!
9. Corkscrew and proper brewing tools
Brewing tools can be a great option for someone who loves wine. Not only do they make brewing wine at home easy, but they also allow you to experiment with different types of wines. There are a variety of corkscrews, filtering machines, yeast, and other brewing tools on the market today. It's important to find something that the recipient will be happy to use and that reflects their personality.
One of the best gifts you could give someone who loves wine is a set of quality brewing tools. Not only do these tools make brewing wine at home easy, but they can also help you explore different styles of wine. When purchasing a gift for a wine enthusiast, it's important to have in mind their hobbies and preferences. Find something that will empower them to start brewing their own wines at home!
10. Kit for making gin
As gin becomes more popular, so too do the gin kits. These kits allow people to learn the basics of distilling their own spirit at home. They come in a range of price points and make great picks for people who love trying new things or are self-sufficient.
Gin-making kits are a thoughtful idea that will be enjoyed by everyone on your list. Not only is it a remarkable item, but it's also something your friends and family can use to learn about distilling their own alcohol. Making gin at home is an incredibly rewarding experience that will surely get you invited over for another round of celebrations later on down the road!
Drink-related gifts are a great way to show your loved ones that you care about them and their drinking habits. Whether they like to party or just sip on their favorite beverage, these gifts will make them happy. Many people don't think about drinks when it comes to gift-giving for alcohol lovers, but there are definitely some good ones out there.
Whether the drink lover is a beer enthusiast, wine connoisseur, or mixed drink lover, find something on this list that strikes your fancy. Today we've shared 10 creative and amazing ideas for your next gift for a loved one who loves liquor. I hope you enjoyed our article and it helps you find the ideal gift. Cheers!