As we all know, the beauty industry has a nasty habit of discontinuing products that we love and not replacing them with anything similar. I was feeling all nostalgic about one of my favorite (of all time) lip products (that, of course, no longer exists) and it made me take a walk down memory lane. Soon I was searching for all my favorite 90s beauty products and either reminiscing about their amazingness or laughing at their ridiculousness. Any other 90s kids out there? Take a walk down memory lane with me ….
---
So I guess I'll start with the product that made this whole post come into existence ….
Bonne Bell Lip Lix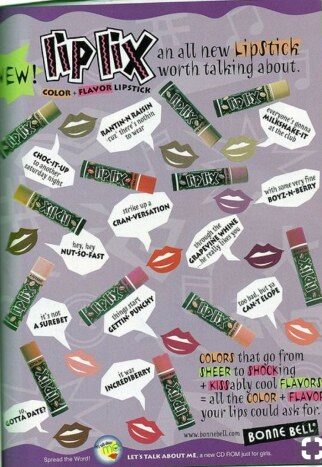 These were a more grown up version of their Lip Smackers balms. They added a hint of color and a slight gloss and had a wide selection of great colors that weren't overly bright. My ABSOLUTE favorite was Choc-It-Up, a light brown that took down the extreme pink of my natural lip color in the best way (I also had 'A Surbet' and 'Milkshake-It'. It also smelled like chocolate – what more could a girl ask for? Of course after remembering this … I became obsessed with finding something similar, at least in color.
The only product I've found so far that is even remotely close to the color and consistency is MAC Patent Polish Lip Pencil in Innocent, $21. It is a nude that's a little bit lighter in color but the consistency is pretty spot on. Of course, it doesn't smell like chocolate but beggars can't be choosers right?
Sun In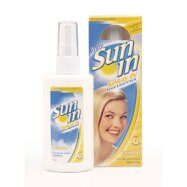 If you were a brunette in the 90s and didn't damage use Sun-In, can you even say you had an adolescence? This has to be one of the biggest beauty mistakes I've even made. Having been a blonde until I was about 5-6, I still had some blonde highlights, so I assumed it would work perfectly. I begged my mom to let me get some Sun-In and she finally let me. Spraying that citrusy-smelling liquid all over my long brown hair and covering myself in baby oil to bake in the sun the summer before 8th grade made me feel Oh so cool. It was all in vain though because I never became a blonde. I didn't even get close.
I turned myself into Carrot Top – my hair turned a brassy, orange shade. To make matters worse, I only sprayed the very top layer of my hair. So it was orange on top and brown below – whenever I put my hair in a ponytail – it would be brown roots with an orange tail. This was also the time I insisted in sleeping with my hair French braided and rocking the kinky waves the next day. The newest iteration of this type of product is Ouai's Sun of a Beach Ombré Spray, $24.
The Gap Perfumes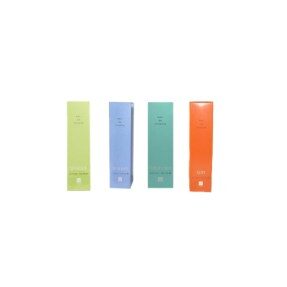 A lot of girls were wearing Bath & Body Works body sprays (hello, Cucumber Mint and Freesia!), but as soon as I found these scents from The Gap I was hooked. I wore these until they were discontinued in the early 2000s. My favorite scents were Dream, Heaven and Om.
The packaging was way more sleek than BBW sprays and the scents were more grown up. They even came in travel sizes for me to stash in my black tote bag from Contempo Casuals so I could reapply throughout the day. (Okay is anyone else laughing as the read this? Because I am dying at how cool I thought I was).
St. Ives Apricot Scrub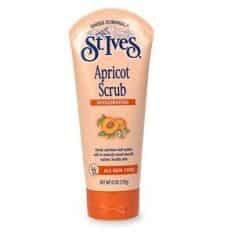 This was one of the first attempts at exfoliation. Who remembers rubbing this stuff on their face and feeling like they were doing grown up thangs? This stuff scratched the shit out of your skin and actually kind of hurt.
Eventually I wised up and stopped using it but not before I irritated the shit out of my skin and cause many a break out I'm sure. I think this still exists but I haven't used it so who knows if its tearing up a new generation of teens skin – but I think the newer generation is a lot more skincare savvy thanks to Instagram and YouTube.
White Eyeliner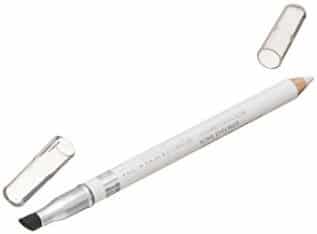 Once I discovered this I used it all. the. time. I used it under my brows to highlight my arch, the inner corner of my eye, in my waterline … wait, who am I kidding? I pretty much drew around my whole eye with it.
Sometimes I even used it under my nails to make the white of my nails even whiter. This was a constant staple in my makeup bag for years … I even graduated to MAC Fascinating before I realized that a white pencil doesn't look natural at all. These days I use a shimmery nude in the waterline and brow bone (I'm actually currently testing a bunch to find the best one).
90s Skin Care Must Haves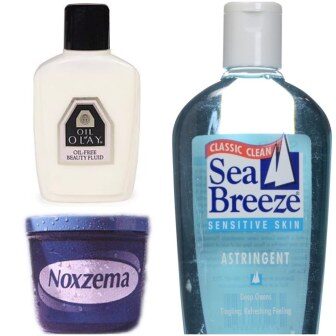 I remember the minty smell of Noxzema like it was yesterday. But when I thought about it – I didn't even know what it's purpose is. I had to Google it! It's a cleansing cream that is good for acne-prone skin because it cleans out pores but leaves skin soothed. Who knew?
Oil of Olay was something my mom used, so I used it too. The original Beauty Fluid is always a good basic choice as a moisturizer and is available at the drug store. These days, Oil of Olay has a lot of different lines – anti-aging, luminous and body products.
For those who don't know Astringent is the 90s version of toner. SeaBreeze brings back memories of my face being super tingly and ending up red. I felt so accomplished to feel the sting after I did an extraction and then place a cotton ball soaked in this stuff on top of it. Feel the burn!
Body Glitter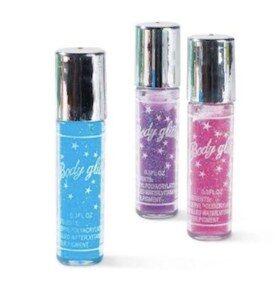 I never owned any myself but I always borrowed my BFFs both glitter. I'd apply it downs my arms, my cheekbones and in my hair. Between this, my orange hair and my platform shoes – I could've been the 6th Spice Girl. That was totally my inspiration, I'm sure.
These always had a fruity scent to them too, which made them that much more fun to play with. These days we've got things like Glotion and super glittery highlighting powders but never forget their roots!
Studio Fix Powder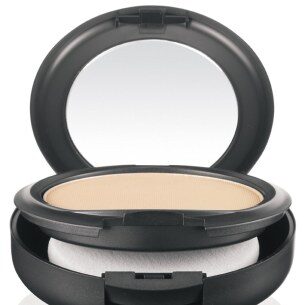 One of my most cherished items. I wasn't allowed to wear makeup in high school. Not at all. No mascara, no powder – only chapstick (the lip lix were even pushing it for my parents). I'm guessing I bought this when I went out with my BFF and her mom and hid it in my locker because there's no way my mom would've let me keep it.
As one did in the 90s, I chose a shade that too light for me and applied with the included puff (that I didn't even think to change).
Herbal Essences Hair Care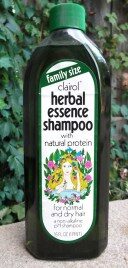 This is the OG bottle of Herbal Essences. It was their only shampoo/conditioner. This was before brands got into making different categories like: hydrating, volumizing, color protecting, repairing etc. My hair in high school was long and cooperative. After 'Sun-Ingate' I left my hair alone so it was teenage virgin hair … meaning PERFECT. So I'm not sure if this contributed to it or not.
To be honest, I didn't really pay attention to WTF I was doing at the time. I didn't really get into makeup until I was like 25/26 and didn't get into skin care until I was around 30. I fully didn't realize how lucky I was to have good hair and skin. I guess the problem with getting older – you realize how many things you had (nap time, no bills or responsibilities, mandatory excercise) and took for granted.
---
I hope you enjoyed reminiscing about my high school beauty favorites. Please use the comments to share your favorites products from high school – I'd love to hear about it!