I know I've only done one favorites list on the blog so far, but I thought it would be fun to look back and share my 2017 favorites with you. So here we go!
---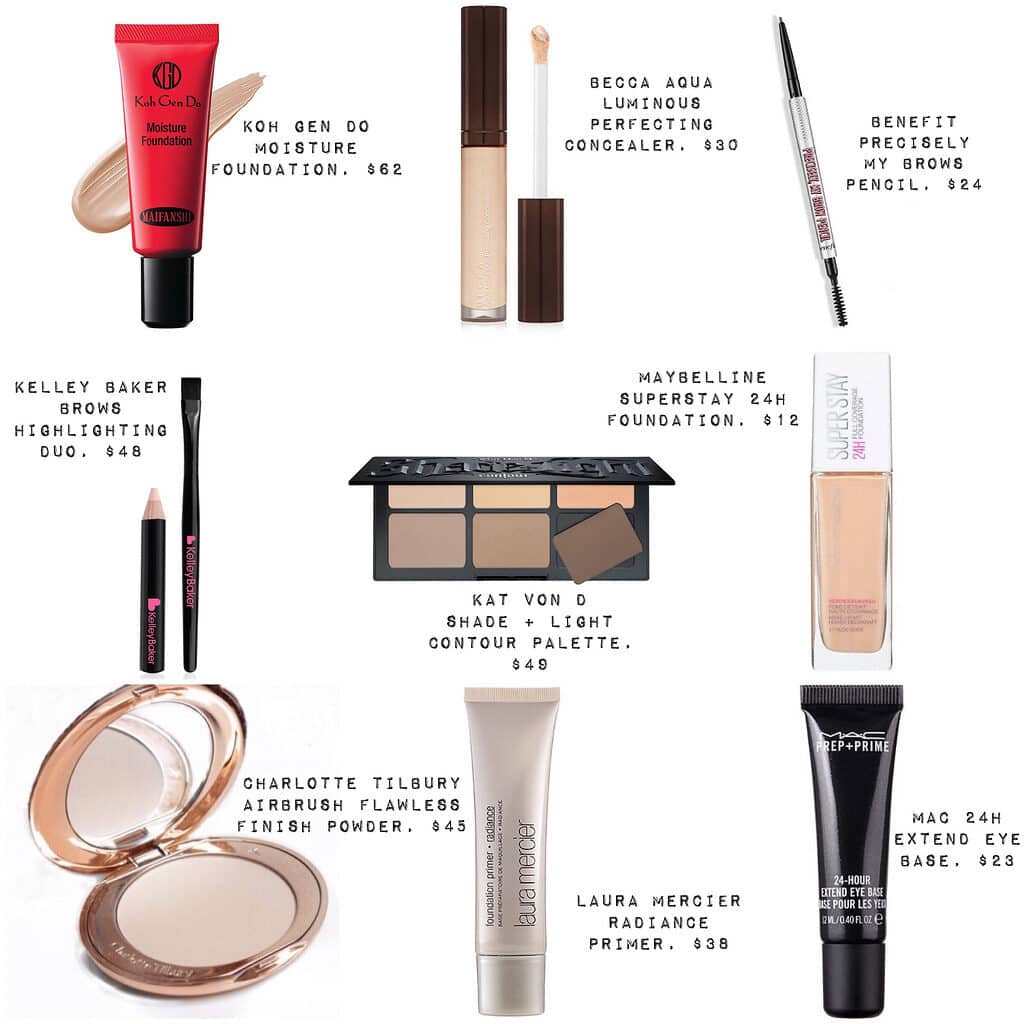 koh gen do moisture foundation: This foundation is perfect for no-makeup makeup. It's a thicker liquid that is medium/buildable coverage that makes your skin look natural but better.
Becca Aqua luminous perfecting concealer: This concealer is the lighter sister to Nars radiant creamy concealer and because its lighter – it doesn't crease as much. Its luminous so it reflects light and covers blemishes and dark circles really well.
Benefit Precisely my brow pencil: This pencil is perfect. I've tried a lot of different brands and this one is the perfect size (very thin) and its hard enough that it doesn't apply a ton of product at once but not so hard that you have to push and drag it to get to apply product. The color i use, #4, is the only brow pencil that I've found that doesn't have red in it – it's a perfect cool-toned medium brown.
kelley baker brows highlighting duo: I love using these two to perfect the shape of my brows. They honestly make them looks so much better that you'd swear you got them professionally done. The highlighting pencil comes in two colors – for light and dark-toned skin – and is so easy to blend out that it leaves a natural highlight, unlike using concealer.
kat von d shade+Light contour palette: these powders are so finely milled that they don't cake up on the face and the contour colors are not too gray or red. I use them all over my face – not just for contouring.
maybelline superstay 24h Foundation: This is a new drugstore favorite. The coverage is definitely full but it is a natural finish instead of a matte one. It lasts a fairly long time but definitely not 24 or even 12 hours. its a great product for a great price.
charlotte tilbury airbrush flawless finish powder: this powder … omg … it really does make you look airbrushed. I set my tzone with it and then use it to touch up if i need and it never look cakey, never.
laura mercier radiance primer: This is my favorite primer because it gives me that 'lit from within' glow without having to overdo it on the highlighter. It also helps blur out imperfections when I want to go foundation free (you can check it out in my quick everyday makeup routine)
mac prep+prime 24hr extend eye base: this primer has made doing my eyebrows so much easier because it helps them stay in place all day. this primer is also great for the lids when you're using glitter shadows. i use it every single day.
---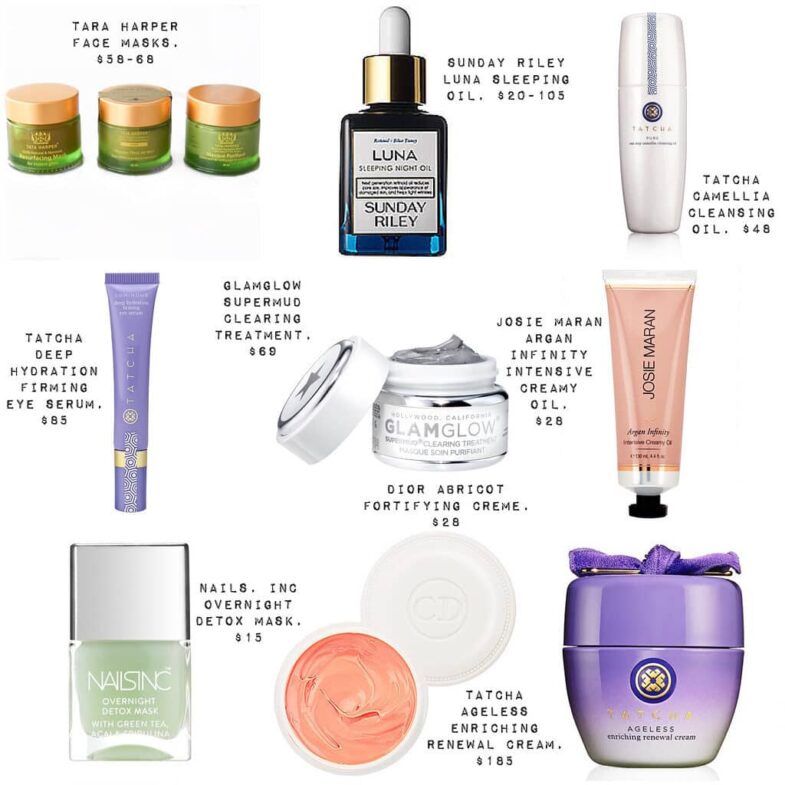 tata harper face masks: this brand is all-natural and made on a farm without any nasty ingredients. Her 3 masks – purifying, clarifying and resurfacing are all amazing in their own right. I've never had any reaction or irritation to them and my skin always looks amazing after using them. definitely worth the higher price tag.
sunday riley luna sleeping oil: Retinol is one of the best ingredients you can use on your skin to help keep it clear and improve texture – but they are known for causing extreme irritation and dry, peeling skin. This product is different – because it's in oil and combined with healing ingredients – it stops all those possible side effects and leaves you with amazing skin. *Pregnant women should avoid retinoids and vitamin A*
Tatcha camellia cleansing oil: this is my favorite cleanser because it helps dissolve makeup and dirt easily and leaves my face feeling clean but not tight and dry.
tatcha deep hydration firming eye serum: i love how this apply – the tip is cooling and helps with decreasing puffiness and the formula itself keeps the sensitive skin around my eyes hydrated and helps decrease wrinkles.
glamglow supermud clearing treatment: i do use this product as a mask occasionally but now that I've started using the tata harper masks – i use this as a spot treatment. i apply it with a q-tip and leave it on overnight. It's normal to have some tingling and redness after using this as a face mask.
josie maran argan infinity intensive creamy oil: This is my favorite hand cream. as a nurse, i wash my hands constantly and dry, cracked hands suck. This helps restore and retain moisture. you can also use this anywhere else on the body.
nails, inc. overnight detox mask: I've had gels forever (like 4 years!) and its wrecked my nails. I've been using this for almost two months and my nails are getting so healthy. The thing I like about this product is that, unlike most nail strengtheners, you apply it to the cuticle area instead of painting it on the nail like a polish. So you can have your nails painting and still treat them. it soaks in very quickly as well.
Dior abricot fortifying cuticle creme: this cuticle cream is a bit of a splurge but it lasts forever because you only need a small amount at a time. it leaves my cuticle feeling so hydrated and very rarely do i get hangnails.
tatcha ageless enriching renewal cream: This cream is expensive but so worth it. i use this as a night cream to help really hydrate my skin and during dry winter months i will even use it in the morning. it's a thick cream and a little goes a long way!
---

Sagely relief+recovery capsules: these are something i take to help ease anxiety (cbd), inflammation and body aches (tumeric). they are non-gmo, gluten + preservative-free, vegan and kosher and the hemp is grown organically without the use of pesticides or herbicides. It takes a few weeks to start feeling the effects – but taking these definitely helped decrease the intensity and duration of my cramps!
therapearl hot/cold neck wrap: this is one of my favorite things to relax with because it's the only one i know that uses moist heat, which I've found, helps release muscle tension better than dry heat from an electric heating pad. i like the shape because i can just drap it around my neck and relax. I have two – one that stays in the freezer and one that i heat up as needed. it says not to sleep with it but i have fallen asleep with it because my neck was so sore and nothing bad has happened.
compression socks: I've been a nurse for 13 years now and have only just started wearing compression socks and i can't believe i never wore them. i started noticing that my feet and legs were almost always swollen after a 12 hour shift and that my legs would often ache and I'd feel very tired. since i started wearing these i no longer have any notable swelling and i don't feel as exhausted or achy after a regular shift. i got a 6-pack that were 15-20mmhg in pressure. They aren't uncomfortable at all but make sure that you don't throw them in the dryer or they make shrink up too small! they are also really good to wear on long flights where you'll be sitting a lot to prevent deep vein blood clots (Dvt).
marpac rohm: i am an extremely light sleeper and will wake up at any noise. it has led to a lot of sleepless nights and sleep anxiety. I found out about the marpac sleep machine while getting a massage at the now. they have it running in their massage rooms and i found myself so relaxed and even falling asleep despite the massage i was getting! I chose to get the travel-sized one so that I can take it anywhere with me. Its small and charges quickly with about 2 1/2 days per charge. there are 4 different tones available but i use the first one which is a deep/low white noise.
heavy woven blanket: As i said, i get sleep anxiety and having a heavy blanket on me while i sleep helps me relax. These types of blankets are about 8 pounds (depending on size) and provide a good amount of pressure. the are pricey but totally worth the investment and are obviously a totally instagrammable piece. you can learn how to make one of these blankets in the video i made or buy one on etsy.
dr. teals epsom salt: Taking a bath is always super relaxing but adding epsom salt is always a good idea because it aids in pulling out the toxins from your body. I like this brand because it adds the aromatherapy element and helps me relax even more. My favorite scents are the lavender and eucalyptus.
sparoom natura diffuser: I use this as a humidifier for my house. by keeping the humidity in our room around 30-40%, it helps keep our airways from drying out and we get sick less. it also helps decrease my husband's snoring! You can add essential oils to it to diffuse as a healthier way to use aromatherapy (as opposed to burning candles). i like this one in particular because its slim, is wood and looks nice. It doesn't need a lot of water and has two modes – a consistent flow or intermitent, which is what we use and it last for 10+ hours.
slip silk eye mask: as I mentioned above, I'm a light sleeper and i found that the light shining down from the smoke alarm in our bedroom was bugging the hell out of me when i was trying to sleep. i had received a sleep mask as a gift and had never used it. one night i thought – what the hell – might as well give a try. now I'm regretting not having tried it sooner! i thought it would be tight and uncomfortable on my head but it isn't. and because its silk its perfect to have around the skin on your face and especially the delicate skin around your eyes! I have been sleeping so much better since i started wearing it.
courtney+the babes anxiety set: I have anxiety. and sleep anxiety. these essential roller blends are amazing at helping to relieve that anxiety naturally. my husband even loves the chill pill roller because it helped him relax on several of our recent airplane travels – he is afraid of flying. I did notice that when I used deep sleep i had unusually vivid dreams – but that's not uncommon when using some of the ingredients in this blend. *Pregnant women should use the less intense version that courtney offers of these blends* I love this brand because courtney is such a cool chick and hand makes all her product by herself in australia. Check her out at @courtneyandthebabes
---

Sprite Universal shower filter: we moved into a new neighborhood this year and i noticed that my hair was constantly dry and just felt gross and unmanageable. i thought i had dry split ends but when i went to my hairdresser to get them chopped off she said i barely had any. I started doing research and found out that the area we live in has really hard water and that symptoms of it are dry, frizzy hair and dry, itchy skin and possible rashes. Getting a filtration system for the whole house was going to be too expensive of an investment for us at the time ($3-4000) so i bought this shower head filter than my husband easily installed. it was magic! my hair immediately returned to it smoother and shinier self.
kardashian beauty take 2 dry conditioner: i love using this to add shine back to my hair after a few days of using dry shampoo. it also softens up the hair and smells great too,
paul mitchell spray wax: This is my favorite product to use to tame the baby hair on my forehead or nape of my neck. its a flexible hold so it doesn't leave my hair crunchy or looking stiff and holds very well. I usually just spray on a full comb and then brush through my hair.
mason Pearson pocket mixture brush: This is the go-to brush. its perfect for blowouts, smoothing and even building volume in hair (teasing). I got the smaller size so that I could pack it easily for traveling. I waited a long time to get it and it's totally worth it!
ouai repair shampoo+conditioner: One of my favorite #girlboss inspirations created this hair care brand and its amazing! The scent is so pretty too. I use the repair line because i used to dye my hair red and it was damaged along the way and this is helping it recuperate quickly.
olaplex n°3 treatment: I use this as a leave-in conditioning mask that i apply to my hair the day i plan to wash it. i will apply it to my hair and then slick it back while i run errands all day, washing it out later that night. this, along with the ouai shampoo+conditioner, has helped rehab my hair to being healthy, smooth and shiny again.
plain white t-shirt: I use these to wrap my freshly washed hair in rather than using a terry cloth towel because it's supposed to keep your hair from getting frizzy or overly dried out. I wrap it for about 10 minutes and then apply a heat protectant and then blow or air-dry.
t3 featherweight luxe 2i hair dryer: I received this as a gift and i'm so excited about it! it's quiet, dries hair quickly and is lightweight. it also has multiple settings and a cool shot button as well. It uses ion technology to help decrease frizz and static and boost shine.
kristen ess thickening spray: This is a super affordable haircare line created by another amazing hair stylist, whose signature is effortless hair. When I actually wear my hair down I use this spray to add volume to my hair when I air dry it.
---
I hope you enjoyed this run down of my 2017 favorites and if you want to share some of yours please do so in the comments!
---
As always, please remember that I am just sharing products that have worked for me and am not a medical professional. If you are sick or in pain, please seek medical assistance. Whenever trying a new product, do a test patch to see if you have a reaction.