It's time for the Sephora Spring Beauty Insider sale so, of course, I'm tempted to buy ALL THE THINGS. That just isn't a feasible financial decision though. I'm also trying to really edit my beauty purchases because, after a HUGE beauty clean out, I realized what a hoarder I am.
Social media is excellent at tempting me to purchase hyped up products, most of which I already own something similar or that I don't even need. I do what to take advantage of the 15% off to stock up on items that I do use regularly or have been wanting for some time. Keep reading to find out which beauty products I'm eyeing and purchasing during the Sephora Beauty Insider sale!
---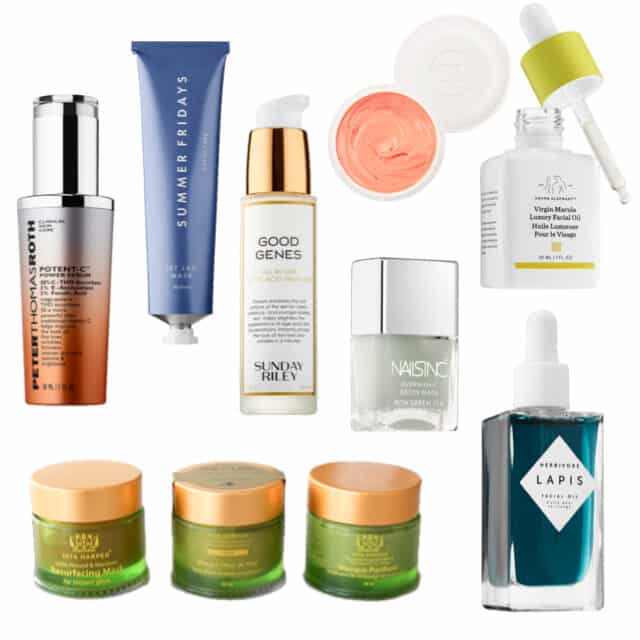 ---
PETER THOMAS ROTH Potent C Power Serum, $95 / SUMMER FRIDAYS Jet Lag Mask, $48 / SUNDAY RILEY Good Genes, $105 / CHRISTIAN DIOR Creme Abricot Fortifying Cream for Nails, $28 / NAILS INC Overnight Detox Mask, $15 / DRUNK ELEPHANT Virgin Marula Luxury Facial Oil, $40 / HERBIVORE Lapis Facial Oil, $72 / TATA HARPER Resurfacing, Clarifying, Purifying Masks, $60-70
---
Peter Thomas Roth Potent C Power Serum:
I've tried all kinds of Vitamin C serums and still haven't found one that I liked yet. I was able to use a deluxe sample of this and I really liked it. It has similar ingredients to Skinceuticals C E Ferulic serum but is a little bit more affordable. It also doesn't have that strong scent that C E Ferulic and it seems to be a more stable formula. I did see some marked differences in old blemish marks and overall brightness just by using the sample I had so I wanted to continue use and sprung for the full-size bottle.
Summer Fridays Jet Lag Mask:
I purchased this to try a new hydrating mask (I've used Glamglow Thirstymud in the past). I like that it's safe to use around the eye area and is specifically formulated to rehydrate post-travel skin. It's surprisingly thin and has a slight peppermint smell to it.
Sunday Riley Good Genes:
This is a long time favorite product that I'm restocking. I've taken some time off from it while trying other lactic acid products. I recently starting using a sample size I had lying around and remembered why this product is so great! In combination with the PTR Potent C, some old blemish marks were lightened in a few days and the texture of my skin has improved a lot.
Dior Creme Abricot Fortifying nail treatment:
*NOTE* I literally just purchased this but when I went to link it – it's now listed as not carried by sephora anymore??? // I love this thick creme for hydrating and protecting my nail beds and have repurchased it
many

times. I hope it's not being discontinued by dior beauty!
Nails INC Overnight Detox Mask:
I started using this after swearing off gels and surprisingly it's work incredible well at rehabbing them! My nails are much stronger and with less ridges. I do this every night while hanging out on the couch. I apply it to my nail beds, massage it in and follow with the Dior creme. I'm already on my second bottle!
Drunk Elephant Virgin Marula Luxury Face oil:
I have mentioned that I got a sample of this to try and became obsessed with it. This is my favorite product to use as the last step in my skincare routine. It leaves my skin feeling super hydrated immediately but also keeps my skin from becoming dehydrated throughout the day when I'm in super dry environments. It doesn't disturb my makeup application either! A few drops pressed into the skin is all you need so even the smaller bottle will last a good amount of time!
Herbivore Lapis Facial Oil:
This is something that I've had my eye on for awhile. The blue tansy in it reminded me of how calming Sunday Riley's Luna oil is. I often have some redness on my cheeks and nose and it would always disappear when I was using the Luna oil. However I am currently not using retinols so Luna oil isn't an option for me, which is why I decided to spring for this!
Tata Harper masks:
I can't say enough about these masks. Yes, they are pricey but they last a good amount of time (I use a synthetic brush to apply them and decrease waste!) and super effective. In order from most favorite down – Resurfacing, Clarifying, Purifying.
---
As you can see, I don't have any makeup items on my purchase list. The reason is because I have so much makeup that I don't use! I keep going through my stash and either give it away to friends, donate it or throw it out. For years, I hoarded makeup that I either was obsessed with the packaging or just wanted to have a limited edition item. How stupid is that??? It was such a waste of money!
In an effort to save money but also to clear out my physical environment of clutter, I've made a commitment to take stalk of what I already own and restrict my purchasing to things that I need or don't already own something similar. Since I've done this clean out I've been feeling so much better. Not only because of the decrease in clutter but also because it's helped me to rediscover some favorite products that got buried amongst all the other crap!
I'd love to know what your must-have products are and what you're getting from the Sephora Spring Beauty Insider sale – share them below!
---