Taking care of your skin is one of the most important things you can do for yourself. Besides cleanser and moisturizer, all the active ingredients can get a little confusing. So I'm going to break down all the active skin care ingredients that you need to know about as well as provide some product suggestions.
Knowing your skin will help you build your own skin care routine. There are all kinds of skin types: dry, normal, oily, combination (oily + normal, dry + normal), sensitive and acne prone. Once you find out your skin type then you can start targeting areas you want to make improvements in. Do you get dry flakey patches and need to add hydration? Or do you have an oily T-zone that you'd like to mattify? Knowing what active skin care ingredients do will help you use the correct products and not make your issues worse. Now let's get into active skin care ingredients …
---
sunscreen
The first and most important step in skin care is protection + prevention; meaning sunscreen. We all know that UV rays are harmful to skin but there are two different kinds of UV rays and you need to know what your sunscreen is protecting you against. UVA rays penetrate all layers of skin and cause premature aging while UVB rays cause tanning + burning of the upper layers of skin.
There are also two different kinds of sunscreen: physical and chemical. Physical sunscreens work by sitting on top of the skin and deflect + scatter UV rays. Chemical sunscreens work by absorbing the suns rays and changing them into heat, which is then absorbed by the skin or by deflecting + scattering the suns rays.
Chemical sunscreens are made of made of inorganic or organic compounds. Inorganic compounds reflect and scatter away UV rays and organic compounds absorb UV rays and change them into heat, which is absorbed by the skin. The only two types of physical sunscreens are Titanium dioxide and Zinc oxide and both are naturally occurring ingredients. Zinc oxide is the only ingredient approved by the FDA that effectively protects against both UVA/UVB.
*TIP: I mix my sunscreen with my moisturizer and apply it liberally to my face, neck (front + back), decolletage and hands + arms to make sure I have full protection.*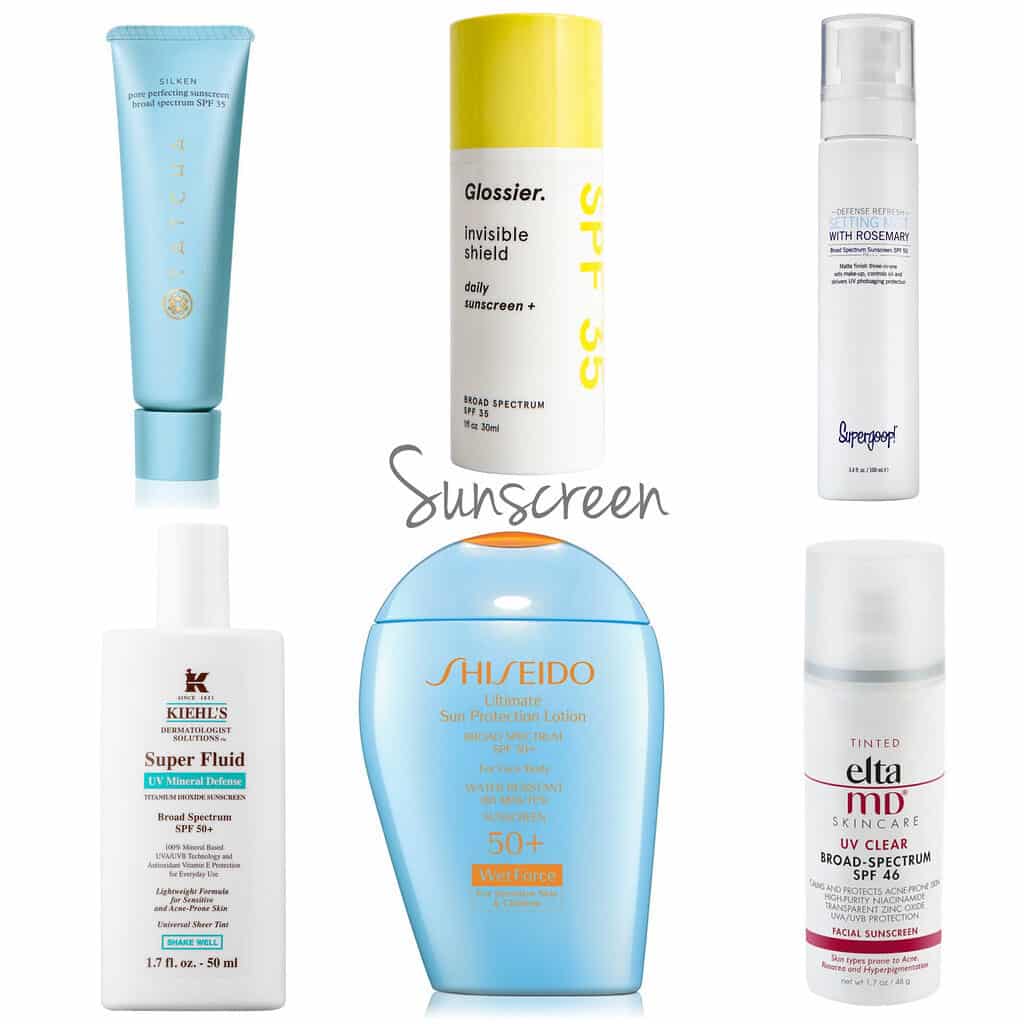 tatcha Pore perfecting sunscreen spf 35, $65 / glossier invisible shield sunscreen SPF 35, $34 / Supergoop! Defense refresh setting mist SPF 50, $28 / Kiehl's Super fluid UV Mineral defense spf 50+, $38 / Shiseido Ultimate sun protection Lotion Spf 50+, $42 / Elta md UV CLear Sunscreen spf 46, $42
---
Hyaluronic ACid
This molecule is important to skin health because of its ability to hold in moisture (1000mL of water per gram of HA). It also can adjust it's moisture absorption based on the humidity (so it doesn't dry your skin out during dry days). It penetrates the skin's upper layers and also forms an air-permeable layer that boosts elasticity + hydration of the skin. That protective barrier locks in moisture; creating more youthful looking skin.
*Use: Day/Night.*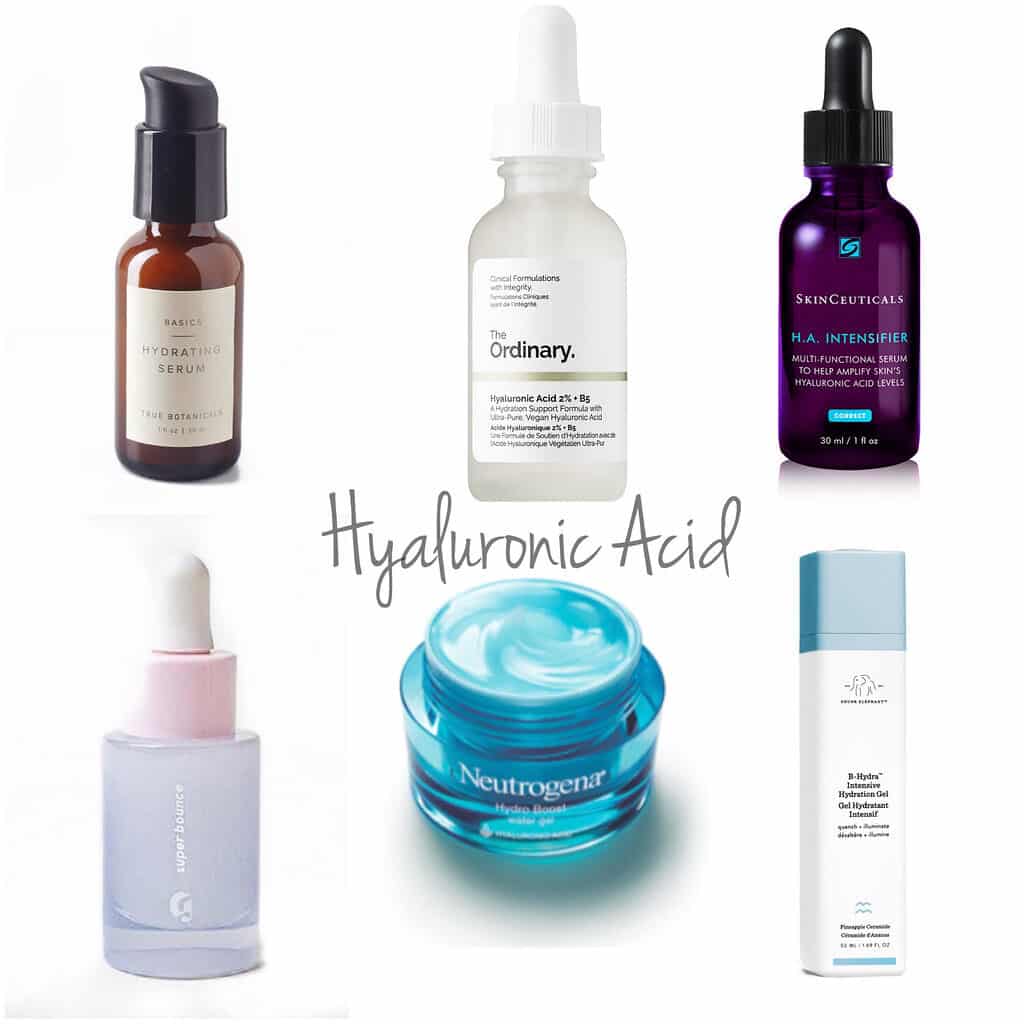 True botanicals Hydrating Serum, $85 / The Ordinary Hyaluronic acid + b5, $11 / Skinceuticals H.A. Intensifier, $98 / Glossier super bounce Hyaluronic + B5 serum, $28 / Neutrogena hydro boost gel cream, $20 / Drunk elephant B-Hydra Intensive Hydration Gel, $52
---
retinoids/Vitamin a
Retinol is one of the best skincare ingredients – its my favorite TBH. It does have a bad wrap though; too strong formulas can result in red and peeling skin. But when mixed in a product that delivers it in a gentle way it can resurface + rejuvenate skin. It penetrates deep into skin smoothing out wrinkles, improving elasticity and increasing moisture. As we age, our cells become deformed (think loss of elasticity causing sagging skin) and vitamin A helps them function normally and resume normal cell generation.
*PLEASE NOTE: women who are pregnant are strongly advised to avoid products with Vitamin A.*
*Use: Night Only*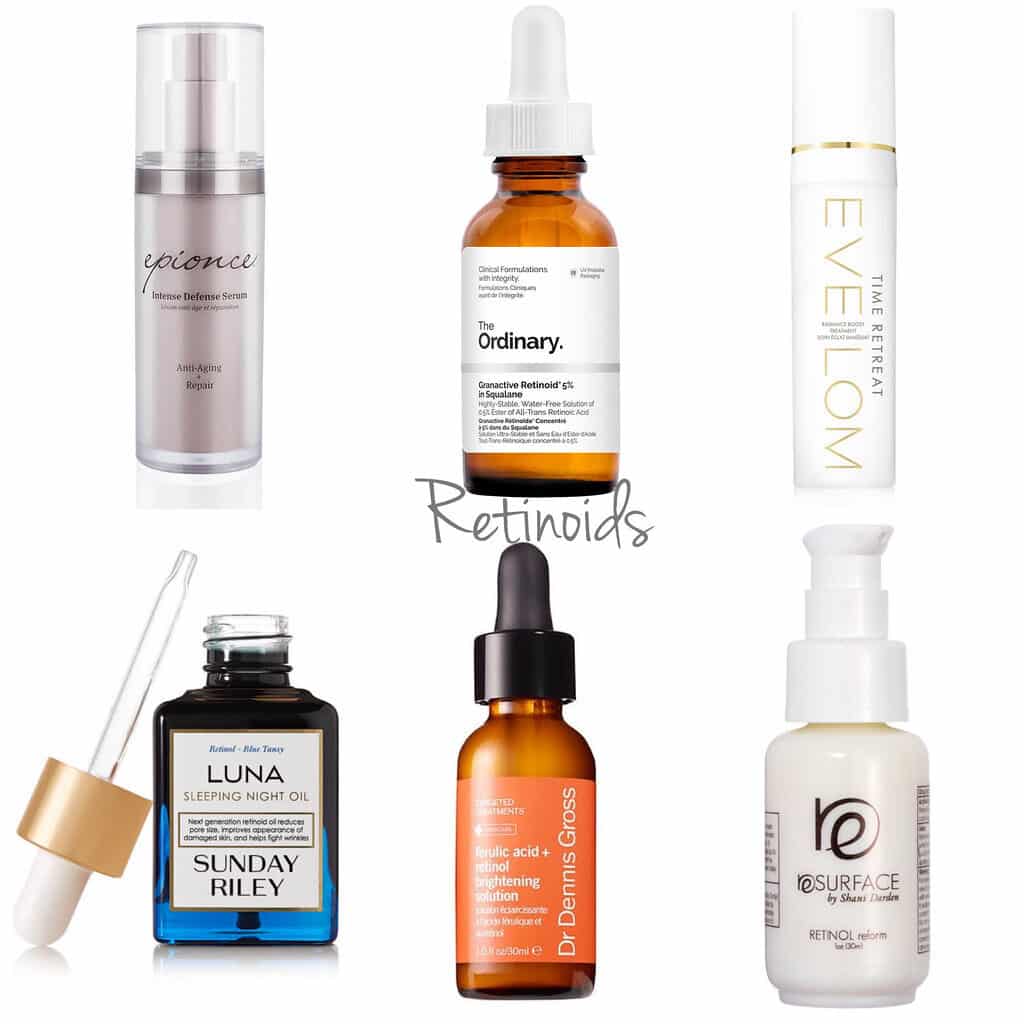 Epionce intense defense serum, $136 / The ordinary granactive retinol 5% in squalene, $14 / Eve Lom Time Retreat face treatment, $110 / Sunday Riley Luna sleeping night oil, $55-105 / Dr. Dennis Gross Ferulic acid + retinol Brightening solution, $88-125 / Resurface by Shani Darden retinol reform, $95
---
vitamin c/ascorbic acid
Vitamin C plays an important role in skin care because it stimulates collagen production and limits damage caused by free radicals that result from UV rays which reduces wrinkles after prolonged use. It also helps limit inflammation which reduces redness. Water retention leads to plumper, more hydrated skin that has less fine lines.
*Use: Day/Night.*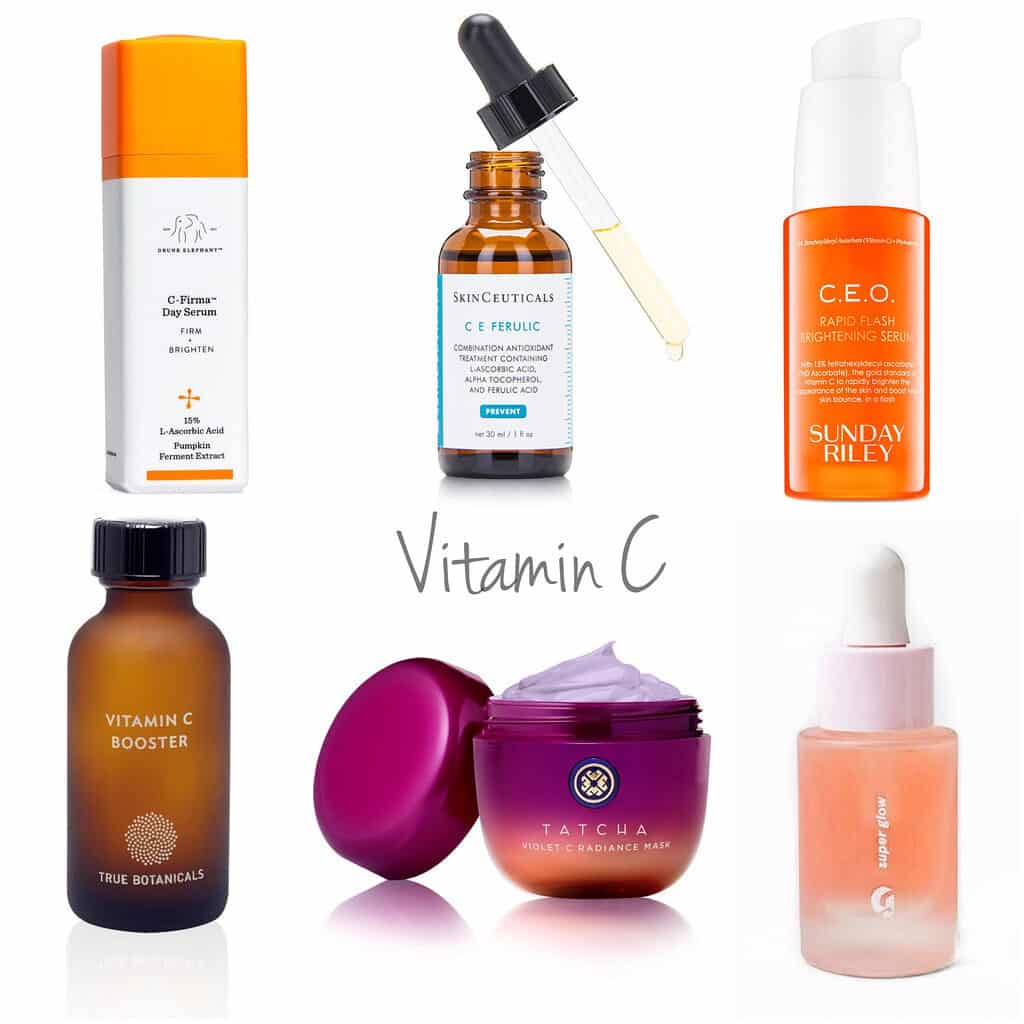 Drunk Elephant C-firma day serum, $80 / Skinceuticals C E Ferulic, $163 / SUNDAY RILEY C.E.O. RAPID FLASH BRIGHTENING SERUm, $85 / Tatcha violet-c radiance mask, $68 / Glossier super glow Vitamin c serum, $28
---
Alpha + Beta-hydroxy acids (Ahas + BHAS)
These are chemical exfoliators: the dissolve the upper layer of cells to trigger skin to repair itself. AHAs work only on the skin's surface and are water soluble. They are good for normal → dry, sun-damaged skin. BHAs work on the skin's surface as well as inside the pore and are lipid soluble. They are good for oily → acne prone skin. You can do multi exfoliation by using them in problem specific areas: BHAs | good for T-zone + AHAs | good for dry patches.
Science says that skin isn't damaged by this type of exfoliation like when physical exfoliation is done. There are some studies that disagree and say that AHAs cause cell death but nothing has been proven outright yet. Types of AHAs include Lactic, Citric and Glycolic acid. Glycolic acid has the smallest molecule and, therefore, penetrates the deepest. It aids in regenerating collage, thickening the epidermis and evening out skin tone. BHAs have natural skin calming properties which make them okay to use on sensitive skin. The most popular type of BHA is salicylic acid.
*TIP: Increase AHA/BHA use slowly because irritation can take awhile to show up.*
*Use: Day/Night.*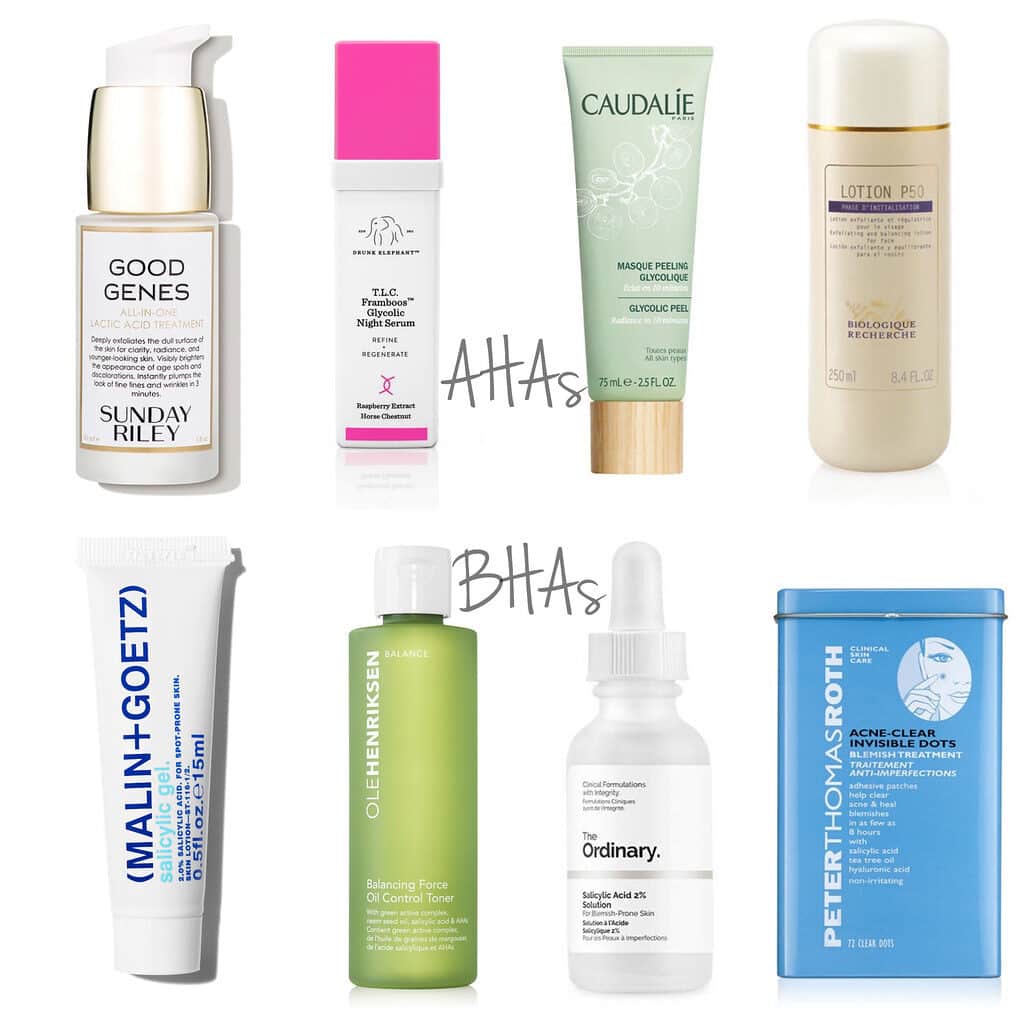 Sunday Riley Good genes All-in-one Lactic Acid treatment, $105-158 / Drunk elephant t.l.c. framboos glycolic Night serum, $90-134 / Caudalie Glycolic Peel mask, $39 / Biologique Recherche lotion p50 exfoliating toner, $62 / Malin goetz salicylic daytime acne treatment gel, $22 / Ole hendriksen balancing force oil control toner, $26 / The ordinary Salicylic acid 2% SOlution, $5 / Peter thomas roth acne clear invisible dots, $30
---
Alpha-Lipoic Acid (ala) + Copper peptides
Alpha-Lipoic acid is a universal antioxidant that is recently gaining hype. It is both water + lipid soluble and provides the greatest protection against free radicals. Other benefits are that it diminishes fine line, increases glow and boosts levels of other antioxidants.
Copper peptides helps firm, smooth and soften skin by promoting collagen + elastin production and acting as an antioxidant that fights free radicals.
*Use: Day/Night.*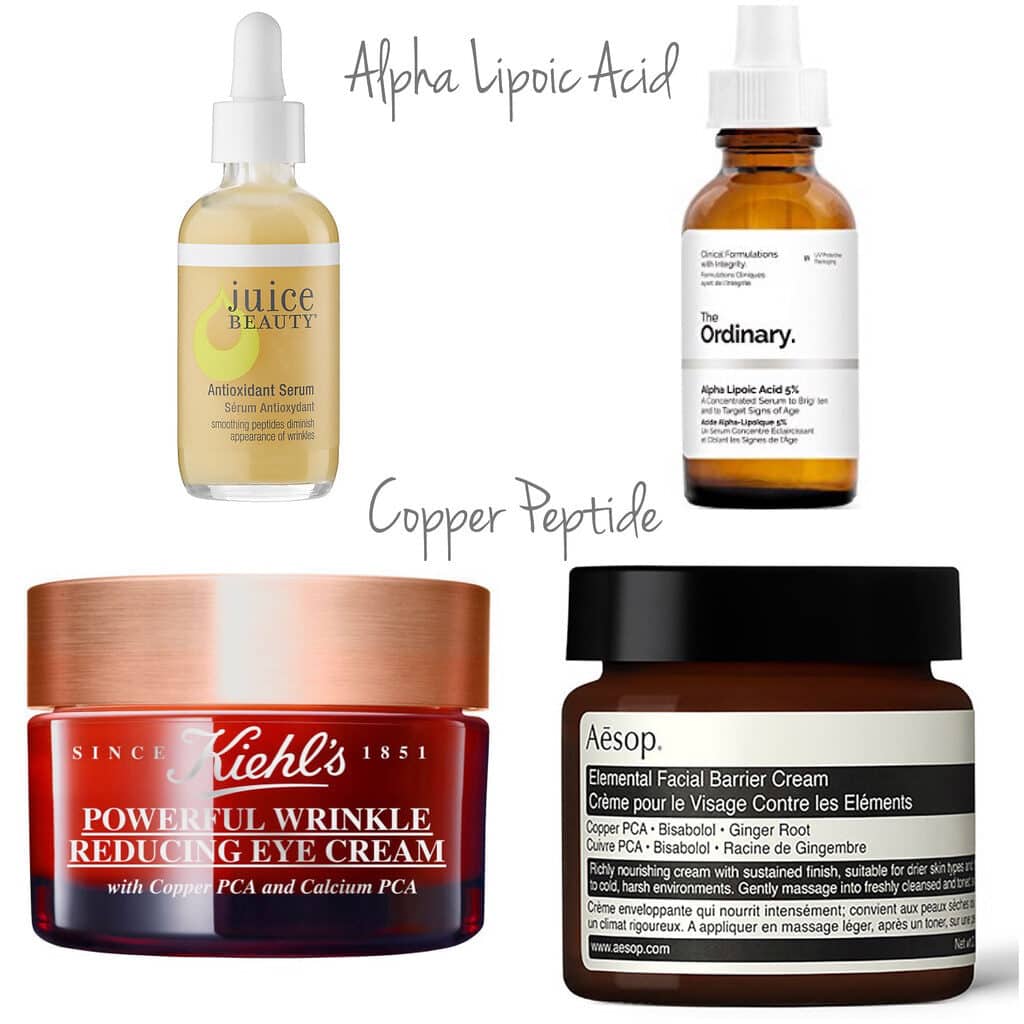 Juice Beauty Antioxidant serum, $48 / The ordinary 5% alpha lipoic acid, $7 / Kiehl's powerful wrinkle reducing cream, $55-72 / aēsop elemental facial barrier cream, $60
---
Niacinamide + Zinc
Niacinamide is an effective skin restoring ingredient that improves the appearance of enlarged pores, uneven skin tone, dullness and fine lines. Zinc aids in healing skin and preventing acne by regulating the activity of oil glands. It also promotes a healthy immune system and the healing of tissues.
*Use: Day/Night.*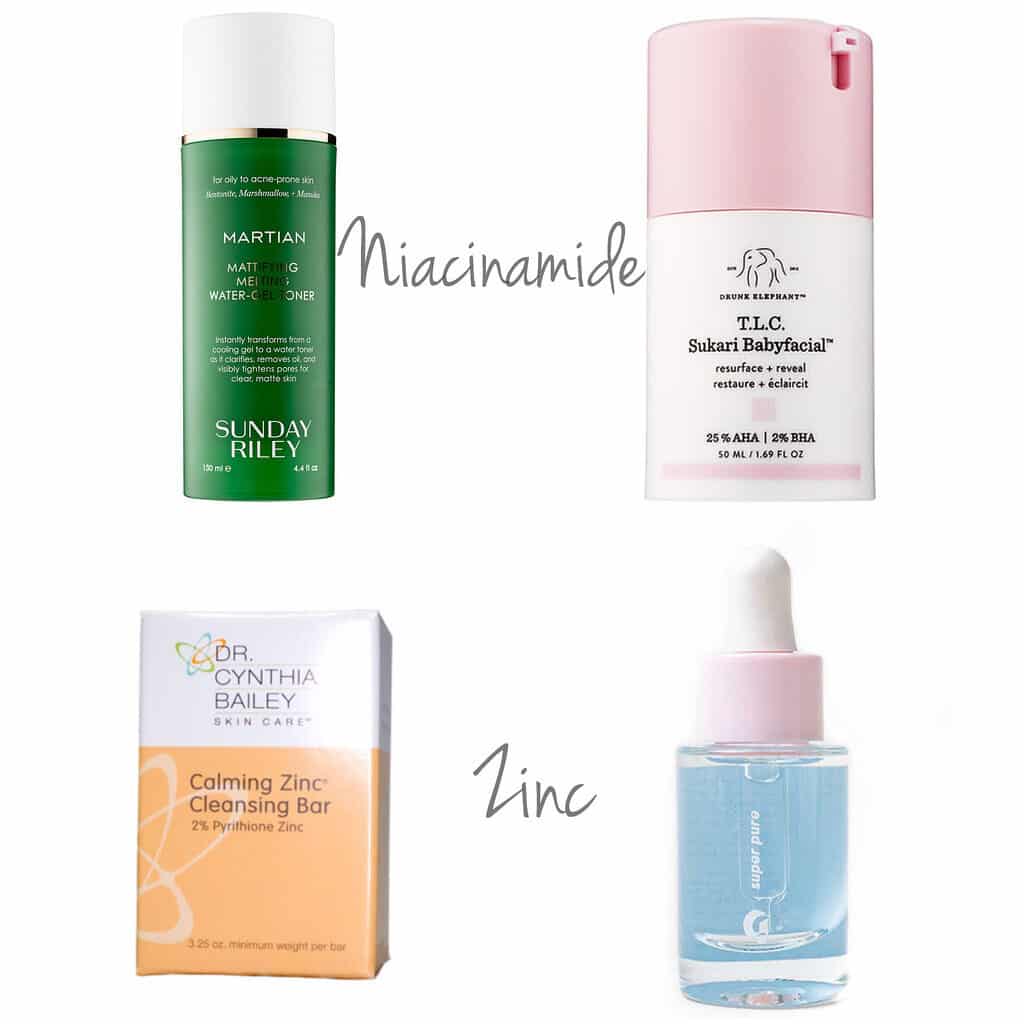 Sunday riley martian mattifying melting water-gel toner, $55 / Drunk elephant T.L.C. Sukari Babyfacial, $80 / Dr. Cynthia bailey Calming zinc cleansing bar, $10 / Glossier Super pure niacinamide + zinc serum, $28
---
please remember that i am not a physician; if you are having skin issues, see a dermatologist. Also remember to do skin patch test before applying a new product over your face.
---
Resources:
Tatcha Sunscreen Article
Oregon State Vitamin C Article
Paula's Choice Hyaluronic Acid Article
Paula's Choice Niacinamide Article
Oprah Retinoid Article
Paula's Choice AHA/BHA Article
Livestrong Alpha Lipoic Acid Article
Livestrong Copper Peptide Article
---
| photos sourced from product websites |