Have you heard of Sunday Riley? Have you used her products? I first heard about this eponymous brand a few years back while I was scouring beauty stories during New York Fashion Week. One of the articles talked about the SUNDAY RILEY 'Flash Facial' (more on this later) and how it was used on the models to wake up their tired skin and give them the ultimate glow. That's all I needed to hear to make me go out and purchase the SUNDAY RILEY products used and it's been a love affair ever since. As with all brands, there are some products that don't work for me. I'm going to share the products that I absolutely love and have repurchased multiple times!

First let me share the back story of the brand. Sunday Riley is a Houston-born, self-professed beauty addict whose interest in makeup and beauty started at a young age. She majored in chemistry at the University of Texas and translated her beauty obsession into a career as a cosmetic chemist. She launched her own line in 2009 after working for other skin care companies and feeling that the products were ineffective. Her goal is to use only the purest raw materials and formulate them in a manner that makes them most effective.
Using the best products equals a higher price point, the brand's most expensive product being $158, which qualifies it as a luxury skin care brand. This does seem like a painful splurge for skin care but if you consider other luxury brands, are you buying them for the packaging or the effectiveness of the products? I find that the most effective products I own often have the most pared down packaging. SUNDAY RILEY prioritizes the product and that's what you're paying for. If products don't live up to her standards (Disrobe body lotion, Bionic Cream, Cashmere SPF, to name a few) or didn't fit in with the brands focus on skin care (short-lived cosmetics line), they are quickly discontinued. She is set to release a new and highly anticipated foundation line of twenty shades that straddles the line between skin care and makeup.
---
Luna Night Sleeping OIl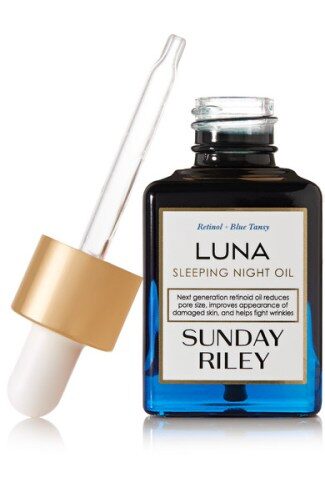 This product is, by far, my favorite. If you've read this post, then you know that retinol is amazing for restoring a more youthful look to your skin. But retinol products are notorious for being harsh and creating a red, irritated and peeling mess of your skin. This oil combines blue tansy and chamomile essential oils to decrease the redness and irritation commonly associated with retinol use.
A few drops in the palm of your hand is all you need. Massage it into skin until the blue tint disappears and follow up with the rest of your skin care routine. You will see results – increased radiance and skin smoothness along with decreased fine lines, dullness and texture – within 4 weeks.
If I haven't used retinol in a while I will gradually incorporate this back into my night skin care routine, using is maybe twice a week. Once my skin is more used to it, I'll bump it up to 3, maybe 4, times a week depending on my skin needs. If I have left over, I always rub it onto my décolleté and my hands to make extra use of the smoothing benefits.
Reminder: Always use sunscreen when using retinol or acid products!
Good Genes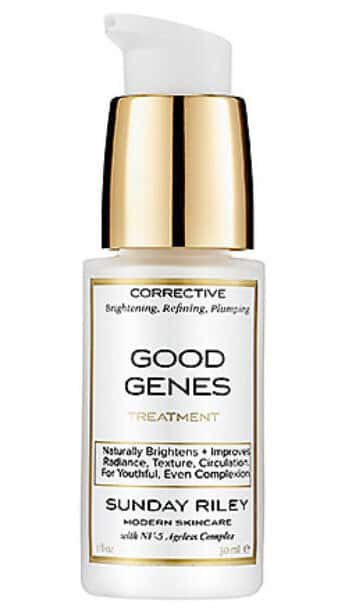 This was the product that enticed Barney's to pick up an unknown brand and encourage it's creator to name her line after herself. This is also the most expensive product in the line. Why? Because it works!
Discoloration and dullness don't stand a chance against Good Genes. It uses a potent mix of 10% Lactic Acid, Licorice and Lemon grass to brighten hyper-pigmentation and add radiance. Aloe soothes irritation.
This has been part of my morning skin care routine since I read that article about the 'Flash Facial'. Many years ago, after a professional facial, a bunch of melasma surfaced. Suddenly I had huge brown spots on both cheeks and the center of my forehead that, only an hour before, had been pigmentation-free. Good Genes is the one product that truly helped me fade those spots. As with retinol use, sunscreen is a must when using alpha-hydroxy acids (AHAs). Some stinging is normal and overuse or using too much too quickly can result in redness. The smell is not the best but you get used to it.
Ceramic Slip Clay Cleanser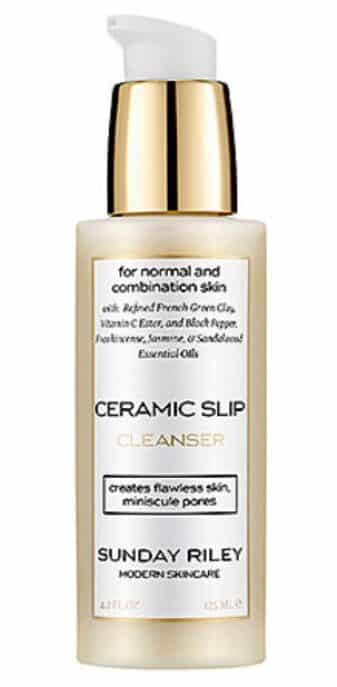 This cleanser was part of my 'Flash Facial' purchase. Since I've had a few bouts of adult acne recently, I've started alternating this in as my nighttime cleanser. Two types of clay unclog pores and remove excess oil without stripping the skin. I hate cleansers that strip my skin, leaving it feeling tight and uncomfortable. This leaves it feeling tightened but in a firming way and never dry or itchy. Neroli helps to soothe skin while Vitamin C ester helps add radiance.
The 'Flash Facial' is something that started at New York Fashion Week. Fashion show model's days consist of having a lot of makeup put on and taken off of their face. Imagine having your face washed, in a rush, 4-5 times a day. It'd probably be pretty red and irritated.
This 10-minute facial quickly and visibly improves skin by giving instant radiance and clarity. I didn't believe it until I tried it. I applied the mixture, waited 10-15 minutes and washed off with a warm washcloth. My skin felt supple and was literally glowing. My pores were tightened and my skin was super smooth.
The popularity of this trick led Sephora to create the Flash Fix Kit, $28, where you get smaller sizes of each product to try.
Flash Facial:
2 pumps Good Genes + 1-2 pumps Ceramic Slip
U.F.O. Ultra-Clarifying Face Oil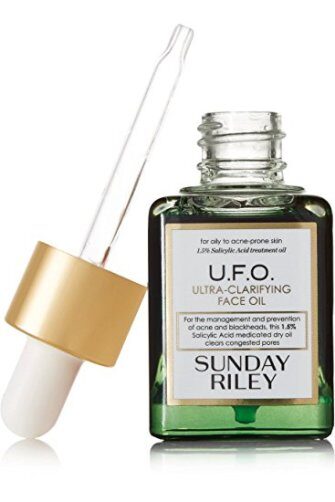 I just recently started using this product because of that persistent breakout I mentioned above. I had heard about it before but didn't have a need for it. Until this past November. I'm not really sure what to pin it on. Around this time, I had another professional facial and experimented with facial shaving/dermaplaning. Either way, my face was a mess. Bumpy, red and not getting better.
I was reminded of this face oil after watching a YouTube video by Samantha Ravndahl on how she fixed her similarly affected skin. I hopped over to Sephora (they have a great return policy!) and purchased it. Since incorporating this into my night routine, I've seen a marked decrease in new blemishes and quicker disappearance of old ones. This face oil contains a 1.5% concentration of salicylic acid along with tea tree oil to battle blemishes. Cucumber seed oil, chamomile, milk thistle and neroli are included to combat the drying effects of salicylic acid. The result is a dry oil that sinks into the skin super fast and leaves it smooth and not greasy. This face oil was specifically created for those with oily skin in mind.
Martian Mattifying Melting Water-Gel Toner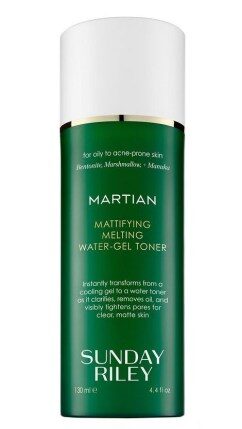 I first purchased this when it first came out because I was on a quest to decrease the pore size around my nose. This toner is super gentle and did exactly what I needed. Bentonite clay is the magic ingredient that not only mattifies the skin but also decreases pore size (the key ingredient in the cult-status AZTEC SECRET Indian Healing Clay).
I even had my husband using this for awhile and he couldn't believe how well it worked! I didn't repurchase it because my skin changed from being oily to just normal. Since it's changed back I've been testing a few other new toners (life of a beauty blogger!).
To use this I just applied it onto a cotton pad (these are my absolute favorite!) and then pressed that in the areas that I was oily or wanted to reduce pore size. It sinks in almost immediately, leaving your skin prepped for more skin care products and mattified for makeup application.
---
Let me know if there are any specific brands you want to know my favorites for!