I don't know about you but getting a massage is one of the my favorite ways to relax and take a little 'me time'. I've mentioned before that I have anxiety and work in very high-stress environment (mechanical circulatory support ICU). Back pain and stiff muscles are familiar territory and I am no stranger to the massage table. In fact, my first massage/adjustment was when I was just 5 years old! My neck got a kink and I was stuck looking to the right. I've been to so many places that I wanted to share what I think are the best places to get a massage in Los Angeles.
---
A little bit about massage therapy before we start. This is one of the oldest types of healing treatments: archaeological evidence of it has been found in many ancient civilization locations in China, India, Japan, Korea, Egypt, Rome, Greece and Mesopotamia! It's purpose is to relieve stress and/or body pain. The treatment can be seated or on a table. There are so many different kinds of massage and depending on which you get; a therapist may use their fingers, hands, elbows, forearms, knees, feet and even hot stones to perform treatment.
---
Services Offered:
This is a full-service day spa. Not only do they offer different types of massage (Swedish, hot stone, deep tissue + pre/post-natal), they also offer facials, body wraps and scrubs, soaks along with waxing and tinting. Massages are available in times ranging 25-80 minutes. Female and male therapists are available and you can state your choice at booking. Only one time was I dissatisfied with the massage I received here. Otherwise, the therapists were excellent at listening to my needs and addressing them. One time I was even lucky enough to be placed with someone who specialized in Reiki – I left feeling amazing! My favorite treatment to choose is the Signature Experience – it incorporates aromatherapy, hot stones, a foot scrub and a warm scalp treatment. So. Much. Yes.
Environment:
This establishment is a mix of industrial and zen. There is exposed brick and wood rafters mixed in with buddha statues and tropical plants. In the shared lounge area, there is a full-wall water installation and soft, soothing music plays. Every time I've been there, the facilities are extremely clean and well-maintained. Used robes, sandals and towels are frequently picked up by staff to keep the space from looking disheveled.
There are treatment rooms that surround this common area and while they have walls and doors, sometimes you can hear other people talking and it's distracting. Sometimes I wish the staff was better at making sure that patrons respected others quest for relaxation. Behind this area there are more treatment rooms but they look temporary, like they were getting busier and expanded in the space. If people are talking back here, it's much more noticeable. Granted I haven't been here in awhile and this could have been changed by now. It's not something, though, that kept me from frequenting this establishment; just something to be aware of so you're not surprised if you get taken back there for your treatment.
Vibes:
They are super professional and courteous. Whenever I've had questions about services or had a problem, they were addressed promptly and to my satisfaction. The space is extremely relaxing and it's so worth it get there early before your service and wind down. It's not a super personal experience though. I've been here many times over the years and no one remembers me, which I don't mind, but if you're looking for that I think you'd have to go pretty often. I appreciate that no one is trying to sell me anything either. You can ask questions or for recommendations but there isn't any push to buy any of their available products.
Pricing:
Massages range from $70 to $180 depending on what type of massage your choose and the duration. If you're looking for a day spa experience, then the pricing is very reasonable considering the amenities and the space. If you're just looking to get a massage and go, I would suggest going to next place I talk about. The also run monthly specials that are worth checking out as well as having a 'Happy Hour' Fridays every so often. A credit card is required to book a reservation.
Amenities:
This is my favorite part about this place. The day spa atmosphere really allows you to take time to focus on relaxing; chill out in a robe, drink some tea and flip through a magazine to the sound of a water fountain. Yes please. First off, you're allowed to stay as long as you want before and after your service.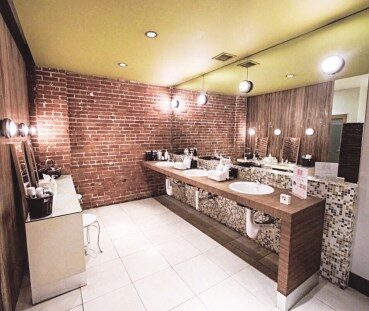 Men and women have separate locker room areas. Within those areas are the lockers, showers, a sauna + steam room, sinks + vanities and a lounge area.
The lockers are very large and come stocked with sandals and a big, fluffy robe. The shower area is consistently stocked with fresh, white towels and peppermint hair and body care products. The sauna and steam rooms are always clean and never crowded.
In the vanity area, every kind of toiletry item you might need is there waiting for you: combs, q-tips, tissues, hair spray, spray deodorant, bobby pins and hair ties and more. The separate lounge area has seating, soft lighting, magazines and cucumber water for you to hydrate with.
Once you enter the shared lounge area, there are several comfortable couches, magazines and a table of tea, infused water and small snacks and fruit. Why would anyone ever want to leave right?
---
Dtox Day Spa
3206 Los Feliz Blvd
(323)665-3869
Call or book online
---
Service Offered:
The Now is unique in the fact that they offer affordable + quality massages in a beautiful boutique setting. It combines the affordability of strip mall massages with the attention to detail and ambiance of a day spa. Both table and seated massages are offered. Table massages range from 25 to 80 minutes and seated massages are 25 to 50 minutes. They offer their own versions of the Swedish, sports, healing and prenatal table massages. Seated massages can focus on the shoulders up, knees down or a combination of the two. Seated massages for children 17 and under are available as well (with guardian supervision) and focus on decreasing anxiety. My favorite is the 80-minute Healer table massage but I've also tried the seated massages and they are great if you have a time crunch or don't want to get undressed.
Environment: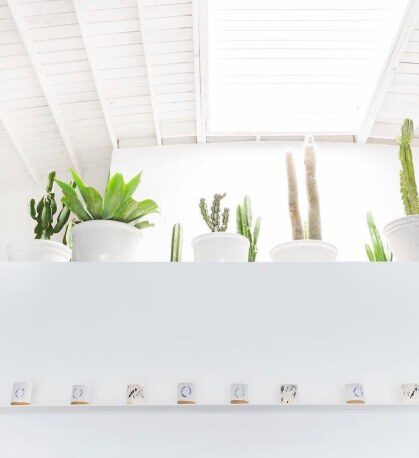 The decor is very intentional. Every boutique is bright, full of light, uncluttered and full of natural textures. Wood and leather furniture draped with faux fur throws are surrounded by mirrors decorated in crystals and stone pots filled with amazing succulents and cacti. Even better is that they constantly have their signature scent candles burning so you're relaxed by the scent of jasmine and coconut. It's literally my dream space.
Every boutique differs in their exact decor depending on the size of the space but the overall theme is consistent. I know that seated massages are not offered at their Studio City boutique, simply because the space isn't big enough to accommodate it. The overall layout is that you walk into a open space with a reception desk. The seated massage area is open.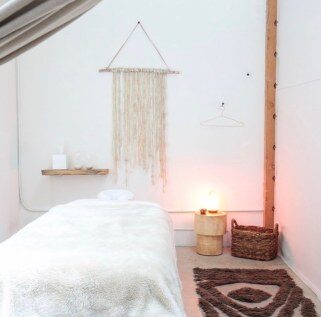 If you're getting a table massage, your therapist will come and escort you to the darkened hallway where treatment rooms are separated by canvas and rope walls. The space is quiet except of the white noise machines (my favorite Marpac) and sounds of the ocean.
Every room has a Himalayan salt lamp on, a treatment table with a heavy faux fur blanket (pressure helps you relax!) and some kind of fiber art on the walls and rugs. There are tissues, mints and hair ties if you need them as well. There is a space for you to place your belongings and you are encouraged to remove as much or as little clothing as you're comfortable with.
Vibes:
Everyone is always super friendly and chatty but decidedly chill. They run through the required speel but you never feel pressured to purchase anything or add on. I'm often asked how my day is going or what I have planned for the rest of the day.
It's nice to feel welcomed instead of 'just another customer'. Therapists are always very professional, from their all-white attire to their mannerisms. Some are more chatty than others and some are very into the spiritual and healing side of what they are doing, which is always a nice experience.
I've visited three out of four of their Los Angeles locations and this is all very consistent.
Pricing:
This is the best part! No massage is over $100 (before tip)! Prices range from $35-95 depending on the time allotment you choose for your massage. The do offer 'enhancements' which are $10 extra per each add-on. These enhancements are aromatherapy, crystal healing, muscle recovery gel and heat therapy to name a few. Some of these enhancements are available for table massage only. You can specify what you want when you book or add it on when you check in.
They also have introduced a new membership program. It offers one massage a month at a discounted price ($10 less) and you choose whether you want the 50 or 80 minute package. The deal is that you have to sign up for automatic payments. If you don't use it, it rolls over to the next month (you will make an account for yourself using an email address). It also enables you to have early access for workshops and membership only events.
When you set up an account, you enter credit card information that holds the reservation. You can change this anytime online. It's nice to do this because it makes checking out so much quicker!
Amenities:
Besides the choices of table or seated massage with enhancements, there are no other services offered. They do have restrooms available but no locker rooms or saunas because this isn't a spa. A cup of fresh water (infused or plain) is frequently offered and encouraged after your massage. This is how they keep their prices down: they are offering quality massages in a boutique environment without the extra frills that can hike up the price.
There are goods available for purchase in the reception area that range from personal care items to jewelry, candles, incense and diffusers and crystals. I love looking through all of the cool stuff! I have spoken with someone from their offices who hinted that they might also soon sell items from their decor style (I was inquiring about pots and bowls) but there was no specific date given for this.
They also hold events in different locations. Sound baths and guided meditations are just a few that I've seen (but sadly been unable to attend). They are super active on Instagram and very responsive to DMs or emails to their website.
---
The Now
Santa Monica | West Hollywood | Studio City | Silverlake
Call or Book Online
---
Please remember that I am not a medical professional and am simply offering my opinions + experience. If you have a condition, seek medical advice before starting a new treatment.