Here's a list of products that I'm currently obsessed with. They are from various categories that may vary from month to month. Scroll for my March 2018 favorites!
---
skincare
My skin has been having issues since this past November. I'm not sure what set it off but I've been on a mission to stop the breakouts and clear up the spots that remained after. It's been a long road (maybe I'll do a post on it ….) but I feel like I'm almost out of the woods. Two products from this whole ordeal really stand out for me and they aren't what you would think of when battling breakouts.
I'm sure the products you reach for first, concerning breakouts, are salicylic acids, benzoyl peroxide and other active ingredients. I'm right there with you. But when the blemishes wouldn't go away and my skin just looked unhappy – I had to take a different approach. Instead of going in heavy on the acids and drying ingredients, I saw the redness and irritation as a product of dryness. So I started going hard on nourishing products that would protect my skin and gently brighten. Of course I still treated the blemishes but only spot-treated them as opposed to my face as a whole.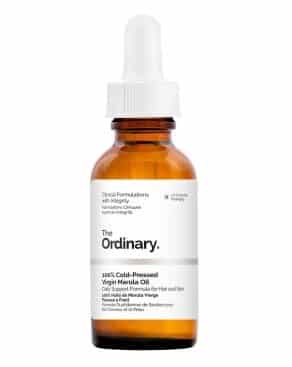 Despite having an oily T-zone, I've never been afraid of oils. But I've always used serums that are in oil form, never just a straight oil on my face. On a whim, I decided to purchase The Ordinary's Marula Oil, $10, and I'm so glad I did! This oil makes my skin feels so hydrated and it literally glows! Those are the two main uses of this oil: it's full of antioxidants that help to hydrate and restore radiance to the skin.
I use this as my last step to both my morning and night routine. I will add 3-4 drops to the palm of my hand and then press into my skin. It absorbs very quickly, which is always good. I've been doing this all month and my skin is so much happier; I have less redness and, of course, decreased breakouts.
I know I've raved about The Ordinary before and it's not just hype. These products actually work and the prices cannot be beat. The only downside is that they are constantly sold out. I have myself on a notification list for several products through Sephora but you can also find their products on the Deceim site as well as on Beautylish.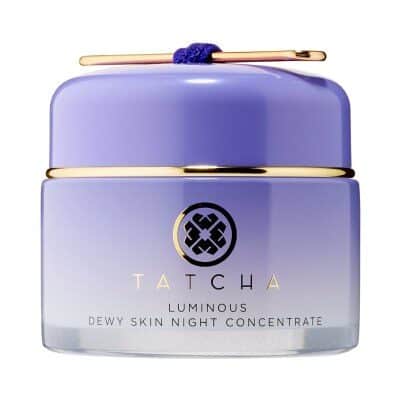 It's no secret that I love Tatcha. The newish on the scene skincare brand sells heritage beauty products from Japan that are inspired by geisha beauty rituals. I've been using this brand for almost 3 years now and despite the steeper price point, I still keep coming back. The packaging is luxe and the product actually work. At $110, the Luminous Dewy Skin Night Concentrate is most definitely a splurge item.
I was first drawn to it because of it's similarity to my favorite (now discontinued) Laneige Firming Sleeping mask. This recent repurchase has been ever-so-gently lightening the leftover dark spots from blemishes over night.
I used it as directed, the last step in my nighttime routine, and went to bed. The following morning my skin was radiant, smooth and marks had lightened. Because this item is pricey, I only use it a couple times a week. You don't need that much to cover your face. The small spatula it comes with scoops out even to literally cover my whole face, décolleté and hands.
---
Makeup
Makeup is so fun to play with and over time your skills improve but also your tastes change. As I've gotten older, I find myself leaning more towards makeup that leaves me looking like myself – but better. No more crazy eyeshadow or overdone contouring for me. I'm just trying to enhance what I've got. That also involves the less-is-more idea. I'm sure I've already preached that skin care is the best way to make your makeup look good – so I'll refrain. But, also, using less products on your face helps to avoid that caked on look. I swear, makeup is all about trying the right formula – the right combination of products for your current skin situation and style vibes. It's like math class over again! I digress ….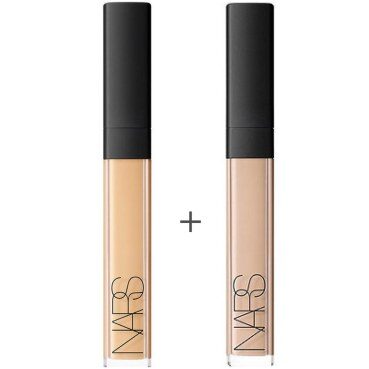 If you watched this video, then you know I'm all about getting my face done as quickly as possible so I can move onto bigger and better things. Since I filmed this, the routine has stayed the same but the products have all changed! The most obvious change is in the concealer I'm using. Becca Aqua Luminous concealer is still great but it just wasn't working for me the way I wanted it to anymore. I decided to go back to an old favorite, NARS Radiant Creamy Concealer, $30.
They have released so many new shades of this product recently (cheers to being more shade inclusive!) but as an olive-toned girl, I still find it hard to shade match. I originally chose Cafe Con Leche, which is light with yellow undertones, but it was a little too yellow and a touch too dark. To correct the yellowness I chose Vanilla, which is light with a small amount pink undertones. Mixing these together creates the perfect tone and shade for me. This concealer is also a medium-buildable coverage which allows me to keep it light or add extra to cover blemish marks.
---
Body Care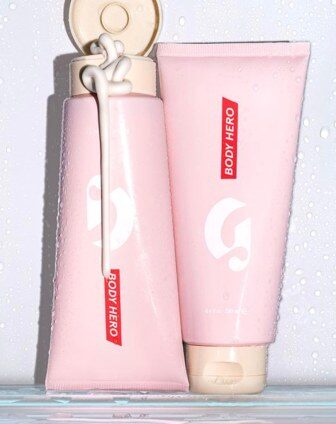 Winter may be coming to an end but I won't forsake the product that helped my dry, itchy skin. I have been on the hunt for a body lotion that hydrated my skin, soaked in quickly and was in a squeeze tube opposed to a jar. This was around the time I went on my Glossier kick and I discovered their Body Hero lotion, $22.
WowWowWow. Not only did it check off all those boxes – it also leaves a very subtle sheen on the skin and has the prettiest and light scent. I'm already almost through my first tube! Everyone I let use this lotion becomes obsessed with it and demands to know where I got it from or tries to steal my bottle.
They also make a body wash. I purchased it but am waiting for my current body wash to run out before using it. I'll let you guys know what I think once I use it.
---
Hair
I used to have waist-length, red and black hair that had pretty damaged ends. So three days after I got married, I had my long time hairstylist cut it all off into an A-line bob. She only did it because I had been talking about it for awhile and it needed to be done. After having super low-maintenance long hair for 10 years, having short hair was a serious pain in the ass. I couldn't put it up without 20 bobby pins and leaving it down meant that I had to blow it out. If I didn't, it flipped every which way and not in the cool-girl-just-got-of-bed way.
So I let it grow out for a year and a half. When I saw her again in April 2017, I asked her to give me a blunt shoulder length lob. She gave me a funny look and asked me if I was suuuuuure? I told her YUP, that it'll be great. (How many haircuts have you tried in an attempt to look like someone you saw? This is one of those moments for me …)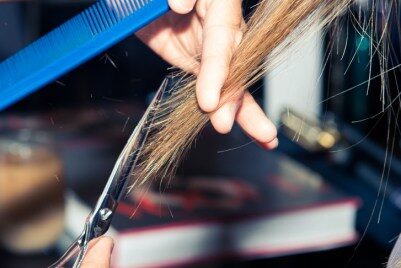 She did it and I hated it. Only I didn't realize why I hated in until a year later. I have pretty fine hair but I have A LOT of hair. It has a weird habit of getting extremely full at the bottom, which then pulls it flat against my face. I can't get any volume up top and can't get the ends of my hair smooth. So, for a year straight, I wore top knots. Literally. All the headaches I was getting (I have a sensitive scalp) made me think of why I was wearing top knots all the time. And it dawned on me why I previously always had layers cut into my hair. Not only layers but that my hairstylist actually cut into my ends to thin them out. It was a total Do'h! moment.
So back I went to my hairstylist and asked her to give me my tried-and-true hair cut. She burst out laughing when I told her about my epiphany and how I disregarded her crazy look a year before. She cut off all the remaining color (it took me 2 1/2 years to grow it out?!) and layered me up. And let me tell you – I don't hate my hair anymore. I actually wear it down and style it from time to time. So moral of the story is …
Trust your hair stylist and don't forget what works for you
---
Food/Wellness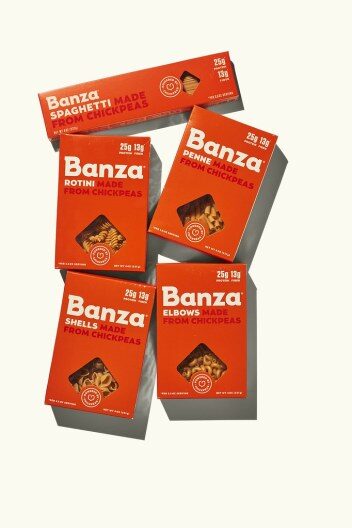 I've mentioned before that I follow a no sugar/no grain (NSNG) diet at home. I've previously mentioned some great grain-free finds here and have found another great product to add to the list. In that previous post, I wrote about not really having a hard time with giving up sugar but that I found it difficult not to eat tortillas, chips, bread and pancakes. Pasta was also something that was extremely hard for me to give up and I searched for replacements but couldn't find anything that would fit into what I needed.
I was talking to a coworker (who is a great resource for gluten-free foods and homeopathic remedies) and she mentioned that I should try a chickpea pasta that she found at Costco. So I went off to Costco and spent what seemed like hours trying to find this pasta. OMG. This shit is amazing. I've made the spaghetti, rotini and elbows. Not only is the flavor and consistency very similar to real pasta, it also holds up as leftovers and doesn't get soggy. As I've said with my favorite Siete brand – I don't see a reason to switch back to regular pasta because this is such a good trade off!
---
DIY helper
If you're following along on Instagram then you know that I'm redesigning my friend Bree's office at Black Diamond Tattoo. The vibe for the space is industrial zen and we are replacing almost everything. Which means a lot of DIY projects because who has the funds for that? Also – finding exactly what you want/need can be costly.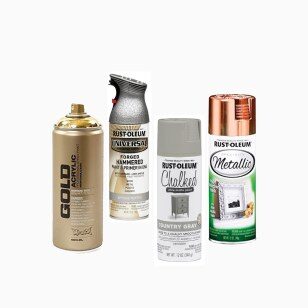 One of my favorite tools for DIYs is spray paint. It's an inexpensive was to make a big impact. You can spray paint some pots from the 99¢ Store and take them from cheap to luxe!
My favorite spray paints:
Rustoleum Chalked in Aged Grey + Country Grey
Montana Gold
Rustoleum Hammered in Antique Pewter + Silver
Rustoleum Metallic Copper
---