Here's a list of products that I'm currently obsessed with. They are from various categories that may vary from month to month. Here are my January 2018 favorites.
---
Skincare: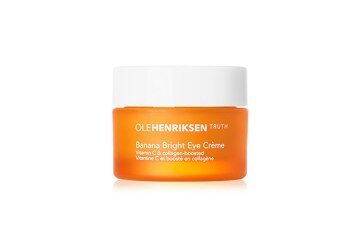 A product that I recently discovered is Ole Henriksen Banana Bright Eye Crème, $38. I first heard about it after seeing a lot of beauty influencers talking about it after they went on a trip sponsored by the brand. I have bought influencer-hyped products before and been disappointed, so I was hesitant. With this being skin care I was even more cautious because I didn't want to have a reaction. This is made with bananas. Anyone who knows me, knows that I hate bananas. So if I'm using it and endorsing it – that means something. I can tell you that this product is works; it is hydrating and brightens the undereye area right away which is always a good thing. I've been using this for almost 2 weeks and see an overall lessening of the darkness around my eyes and less crepiness in the texture as well.
*TIP: This product sells at Sephora and you can get 3 samples for FREE*
---
Makeup: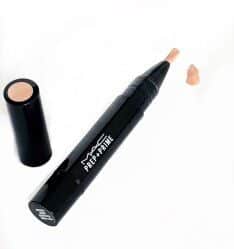 I spoke about my tried + true color correcting product here and writing that post inspired me to get back to my old favorite. So I dug out my MAC Prep + Prime Bright Forecast, $27, and started covering up any dark circles or spots on my skin. It works so well, it made me wonder why I ever stopped using it? That's the hard part of writing a beauty blog and trying new products – you forget what really works for you!
This product is so creamy and lightweight; I use my finger to blend it in and it disappears into the skin. I have light, olive-toned skin and this works perfectly for my skin tone. The other orange color is Peach Lustre and it works well for deeper skin tones.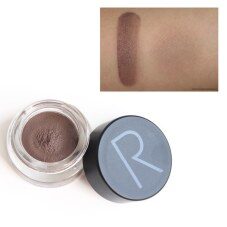 There are other colors available that can be used as color correction or for highlighting and contouring as well. Check them out, I promise you won't regret it!
Another makeup product that I found out about is Rodial Eye Sculpt, $38, is described as a "versatile pigment with a mousse-like texture". All that is so true. I use this to sculpt out my eyes and contour my nose and face. It's the perfect ashy brown color for lighter skin tones!
---
Fragrance: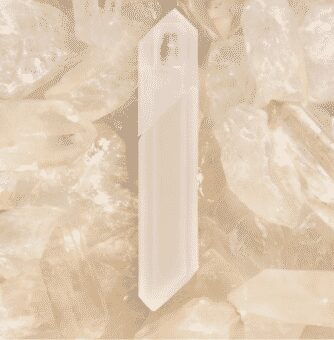 KKW Fragrance in Crystal Gardenia Oud, $60, only comes in one size and is only available online. I read and reread it's fragrance profile and notes to see if it would be something that would smell good on me. I thought, 'what the hell', and ordered it.
The bottle is a crystal shape, which is very on trend. The scent is dark and sensual. I always get compliments on it. The bottle is heavyweight and good quality. I purchased when there was a deal for free shipping + a percentage off so it was the ultimate time to buy. Shipping usually runs around $9.
---
Apparel: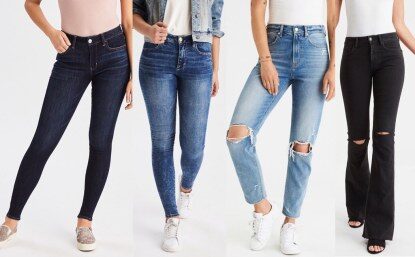 I am not a fashionista by any means and I don't try to be; I'm a 'jeans and t-shirt' girl all the way. I didn't even wear heels to my own wedding! It's not a stretch to think that I'm not the only one who rocks casual clothes on the daily. Even though I'm not dressing up every day I'm still particular about what I wear, I mean, hello never-ending search for the perfect T-shirt!
I have a curvy body: my waist has always been way smaller than my hips and trying to find jeans that don't give me that huge gap in the waist has been a life-long mission. American Eagle Outfitters jeans always fit the bill, even back in the early '00s when I was wearing low rider jeans. Obviously, I'm not wearing those anymore; they still have good looking option. Their high rise jeans are my favorites as of late and they come in all different styles: skinny, relaxed fit Mom-style and slim boot cut with lots of different colors and washes available. Best of all, they're affordable at $50-70!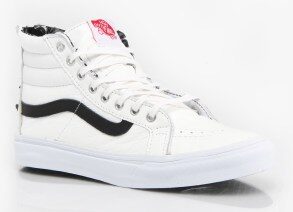 The next item is shoes; like I said, I wear sneakers most of the time. Sometimes I wish I could be one of those girls who wears heels and runs errands but I'm way too accident prone to even consider it. I mean, I fall down when I'm standing still so I'm not going to tempt fate. The shoes that wear all the time are the Vans Sk8 Hi. I first bought them 2014 and wore them all over Europe. I'm onto my second, er, maybe third pair! They don't have a ton of support like a running shoe but I don't find them uncomfortable. They come in multiple color options and either leather or canvas.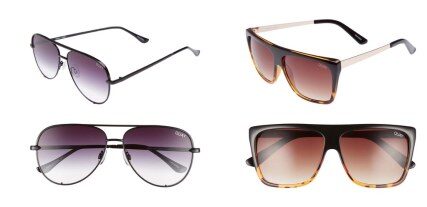 The next item that I always wear is sunglasses because, not only does the sun damage your vision, squinting gives you wrinkles. I'm always on the hunt for cute glasses that fit my face but aren't super expensive; I mean, aren't we all? The brand Quay Australia (pronounced 'key') is great because they have tons of styles and the max price is $75. They sell both men's and women's style along with accessories. My favorites styles are the 'High Key' and 'On the Low' styles that they did in collaboration with Desi Perkins, a beauty influencer. I especially like that they modified the 'High Key' style to a mini size for those that have smaller/more narrow faces, like myself.
---
Wellness: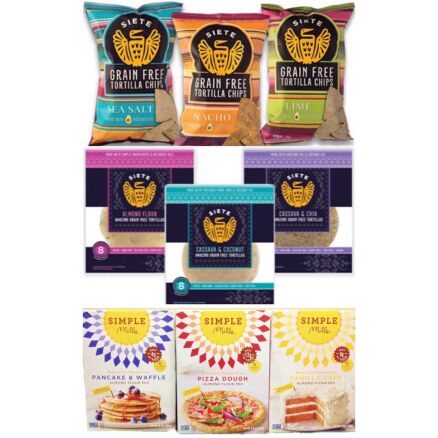 Self care isn't just about baths, meditating and massages although that would be nice. It's about taking care of your body too; which means eating right, getting enough sleep and staying hydrated. I've mentioned before that my husband and I started eating a 'no sugar|no grain' based diet summer 2017.
This change definitely helped get rid of a lot of inflammation and increased my energy levels. I'm not really a sweets person so cutting them out of my diet wasn't difficult. However, I am a carb person. Breads, tortillas, chips, rice and oatmeal are all things that I love. I was so happy when I found a few brands that made tortillas, chips and mixes that were grain-free that I could use as a substitute for all the carbs I missed.
Siete is a brand that offers grain-free chips and tortillas that are made of either coconut or almond flour and they are SO GOOD. When they aren't sold out, I find them at Whole Foods but you can order them on Amazon as well. Simple Mills offers a bunch of mixes that are easy to make and grain-free. We've tried the Pancake + Waffle mix as well as the Pizza Crust mix. They taste great and don't have a funny consistency. They also offer crackers, cookies and frosting. I find them at Whole Foods or Sprouts and like all good things, they can also be found on Amazon as well.
---
Instagram Inspiration:
This year I've gone through who I follow on Instagram and cleaned it up so that what I was seeing in my feed was going to be inspiring. I also started cruising through the exploration page and following new people. In that quest, I've found so many cool new people and so I wanted to share a few that I'm super excited about.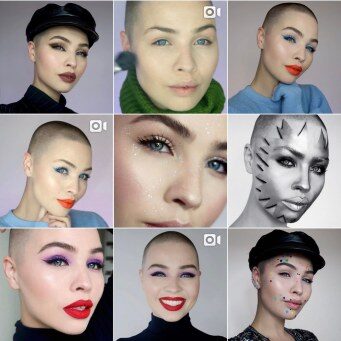 Celine Bernaerts: is a Dutch makeup artist who is a YSL Beauté ambassador. The looks she posts daily are always fresh, clean and colorful with a mix of editorial; she also does mini tutorials in her stories almost everyday. The fact that she rocks a buzz cut makes her even cooler and more refreshing and her personality is so chill. Her 'get ready' playlist is also available on Spotify – just search her name.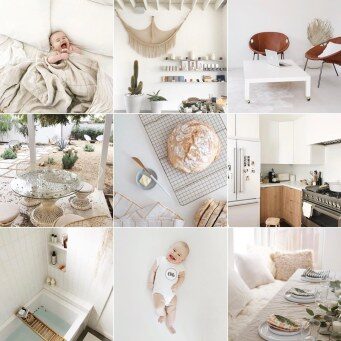 Molly Madfis: is a Los Angeles-based designer. She runs a blog called almostmakesperfect and sells some of her designs and prints on Society6. Her posts are about all kinds of things: her life happenings, entertaining tips, home decor finds and new mom lessons (learned with the oh-so-adorable Arlo). Her fun and cooky dad also makes occasional appearances. I really like the aesthetic of her feed and her home as well as her sense of humor. She doesn't take herself too seriously and is open about her struggles with all of the above.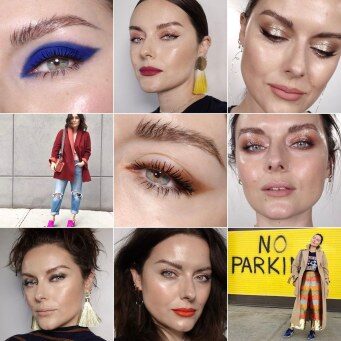 Katie Jane Hughes: is a NYC-based makeup artist whose motto is that "if the skin and brows look natural, you can wear as much of the other stuff as you want, because there's a balance in the face.". She is also a self-professed gloss addict. Her skin is always glowing. It's not a surprise that most can identify with the fact that she plucked her brows into oblivion in the 90s and has to fill them in. Check out her instagram stories and you'll find tutorials, product discussions and talk about real life as she washes her face in her bathroom. She's worked with many different publications, celebrities and companies – you can see them all on her website. Into the Gloss and Refinery29 have both recently written clips about her that are worth looking over.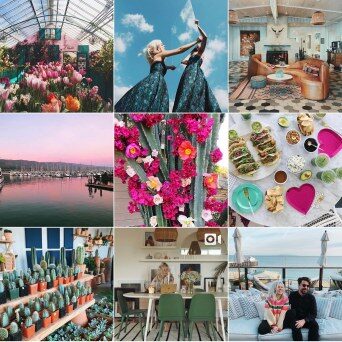 Bri Emery: is a Los Angeles-based graphic designer and art director who created designlovefest in 2009. It's a lifestyle blog that combines DIY, food, travel, entertaining and design. She art directs some of the most colorful and interesting shoots I've seen. Her collaborations with Target are amazing; first there was a travel capsule collection and, currently, a home decor collection inspired by her recent travels to Mexico. I admire that she's incredibly open about her struggles with anxiety and welcoming the changes that come with living with your man. If you watch her stories you will see that, not only is she super talented but, she's also a very cool chick who lives in the ultimate #goals house.
---