Summer in California is H-O-T. Which means I'm trying to do as little as possible, all while looking effortlessly pulled together. Which is no easy feat when the 100°+ temps are melting the makeup off my face and the humidity is frizzing my hair! Through trial and error, I've gathered a list of products that help me get through the summer months with ease. Keep reading for my hot weather beauty must-haves!
---
Prep
I'm not into primers normally – I feel that they are an unnecessary step because skin care is much better at priming your skin for makeup. However, when the weather turns so hot that you feel like you're inside an oven – some extra prep is required. I have combination skin and my T-zone in the summer is no joke. Glowing is good – oil slick on my face? Not so much.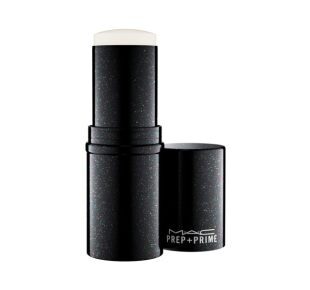 I found MAC Prep + Prime Pore Refiner Stick, $27, by chance while quickly walking through a MAC store (something I never do anymore). I apply this product using my fingers instead of just applying it directly from the package. This way I have more control over how much and where exactly it's going.
I hit all the usual spots – my forehead, between the brows, either side of my nose/under my eyes, the nose/lip area and chin. This instantly decreases the look of pores and give a matte finish. I work 12-hour shifts and this keeps me oil-free for about 10; which is great! Even then, my foundation isn't breaking down or separating on my face at the end of the day.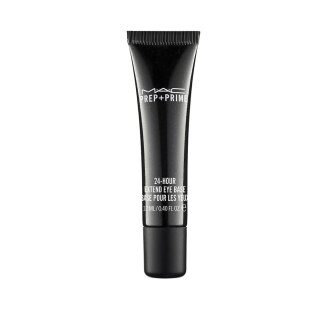 MAC Prep + Prime 24-hour Extend Eye Base, $23, is a great eyeshadow base but it's also what I use to keep my brow product from moving or fading throughout the day.
The trick to this and the pore refiner stick it to let them sit a minute after application so that they get a little tacky. If you start applying product immediately, the products won't sit right and will move around. So I apply these right after skin care and then do something like brush my teeth or get dressed. After they have a chance to settle – anything I apply on top is pretty much guaranteed to stick around all day!
GLOW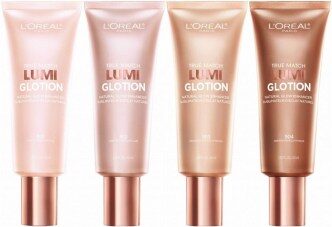 The first product I use to add glow to my skin is L'Oreal True Match LUMI Glotion, $12. I love using this for when I'm wearing makeup and on days that I'm not, but want to add some life to my skin. I stick to applying this to the outer perimeter of my face.
It comes in four colors. I use 902 for my face (which is more fair than my body) and I mix 903 in with my body lotion to give my skin a glowing and subtle tan.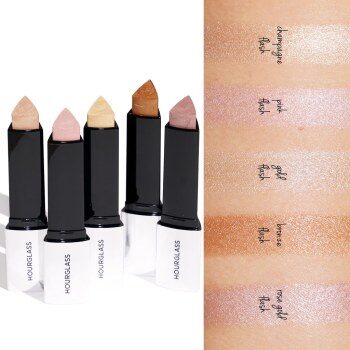 On day's when I want to have an extra glow, I use Hourglass Vanish Flash Highlighting Stick, $42, in the color Champagne Flash. This cream add the most subtle and beautiful highlight and I am obsessed with it. I apply this to the high points of my face only to get that 'glow from within' look. But sometimes I forget and I apply it on top of foundation too.
It really works either way. I use my fingers to apply it instead of applying it directly to the skin. The warmth of your fingers will really melt the product into your skin and make it look more like skin and less like makeup
BronzeR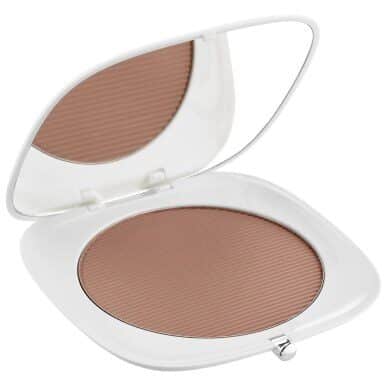 I don't like to use a lot of powders during the summer because they usually just sit on top of the skin. This Marc Jacobs Beauty O!mega Bronzer, $49, in Tantastic is so good! It's the perfect bronze for my skin and the powder is so fine that it blends perfectly into the skin without giving that powdery look.
This is currently sold out (I know, I know) but they do have another color that is not limited and the same powder formula. That one has undertones that are too red for my skin color though. I apply this using a MAC 187 Duo Fibre brush, $42, around the perimeter of my face as well as an eyes and nose contour.
EYES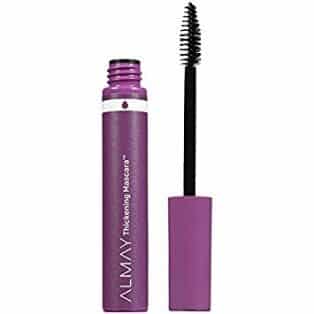 Mascara is a must have no matter what season. My perfect mascara would add length but also be buildable so I can add volume without it looking clumped and gross. It will also stay in place but come off easily when I want it to.
Enter Almay Thickening mascara, $11. One coat of this gives great length and a second coat adds volume. It never smudges under my eyes and is fairly easy to remove at the end of the day. Best of all? The price! I've been testing a bunch of mascaras and I haven't found a pricey one that beats this mascara.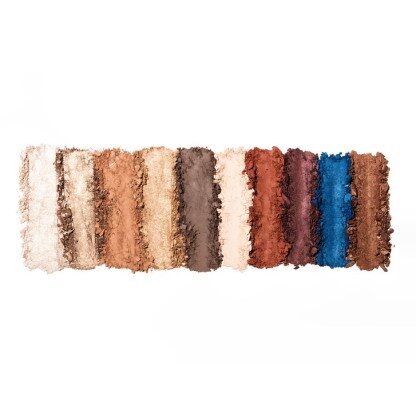 I have recently been on a crazy makeup clean out. It dawned on me that I am a makeup hoarder and had loads of products that I never used; either because I over-bought limited editions or it was left over from my makeup artist days. My new goal is to only purchase products that I don't already have something of and that are multi-functional.
The KKW x Mario palette, $45,, fit the bill for a do everything eye shadow palette. The formula is great – the shadows are easily blended, have minimal fall-out and are in great colors. It's a great palette and I'll be using this all summer long!
LIps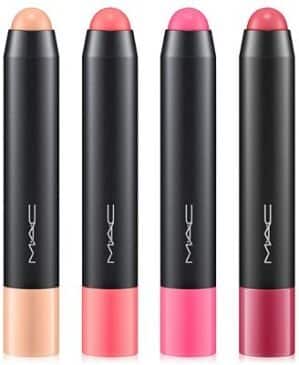 During the summer time, less is the best. Nobody wants to be fussing with high-maintenance liquid lipsticks or anything that's going to create a mess. I'm looking for lip products that are easy to apply, great colors and won't be obvious when they start to fade. MAC Patent Polish lip pencils, $21, are my rediscovered favorite lip product!
I was obsessed with them when they launched and rediscovered them. They've also added new colors. They also aren't a pencil – more of a chubby, solid lip gloss that adds a hint of color. My current favorites are: It's Really Me, Patent Pink, Go For Girlie, and Pleasant.
I will outline my lips with my favorite Charlotte Tilbury Lip Cheat, $22, in Iconic Nude and follow up with one of these and I'm set. It's a sheer formula so I don't have to worry about my lip smearing or fading in a weird way.
Setting Spray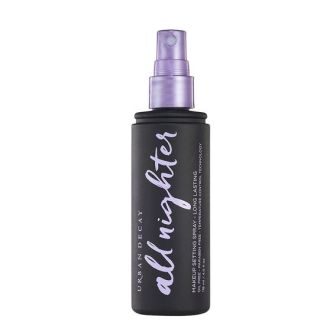 I am a long time devotee of MAC Fix +, $26. It's amazing but sometimes – you just need a little more. Urban Decay's All Nighter spray, $32, is a long time favorite. You may ask why I'm not recommending the new MAC Matte Fix +?
Reason being, I don't want my face to be matte. I want my makeup to last. And that's the difference between these two sprays. All Nighter doesn't matte down my face, it just makes my makeup last longer. This also comes in a travel size spray which is great to stow in a clutch.
It's also interesting to note that Urban Decay's setting sprays are actually made by Skindinavia. This is the brand that came out with the original makeup setting sprays!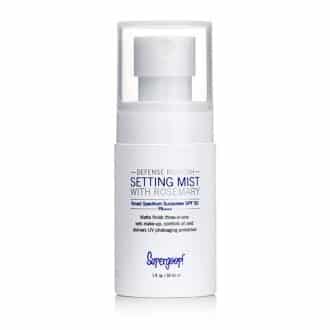 Another must-have setting spray is Super Goop Refresh Setting Mist SPF 50, $28. I carry the travel size of this in my purse at all times. I like it because it enables me to reapply sunscreen throughout the day without disturbing my makeup. It has a light rosemary scent that's really refreshing. I use this on my body as well and have never been burned! The spray is a fine mist and not an aerosol.
I've never found anything else quite like this. There are those travel brushes that have mineral foundation in them. Personally, I don't care for those because I don't want to be applying powder constantly. I feel like that would make my face look powdery or end up looking cakey.
HAIR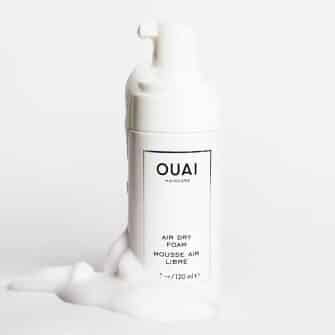 In the summer time, I am extremely anti- blowdryer. It's way too hot and I'm way too lazy. Two products make summer hair so much easier. The first is Ouai Air Dry Foam, $28. I have wavy hair but most of the time my waves fall flat and I end up having to fix my whole head.
After washing, I apply a generous amount of this throughout my hair. I'll wrap it up in a bun for a little bit and then sleep with it loose. Since I've started using this foam, my waves are much more pronounced and I only have to fix a few parts.
I like that this is a mousse formula because it's super light-weight and doesn't weigh my thin hair down.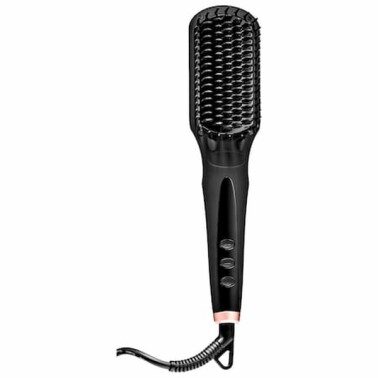 Next is the Amika Polished Perfection Straightening Brush, $120. I found out about this recently and my life has been changed! I have thin hair but I have a lot of it. Which means it takes a long time for me to do a blow out. So by the time I finish my hair, I've sweat so much that the other side is starting to frizz. Which makes a home blow-out in the summer a total waste of time.
You would think a straightening iron would be the key right? No. That just makes my thin hair, FLAT thin hair. Although I never saw it this way. I'd straighten it and then tease and add product to get volume. D'oh!
This tool, however, straightens out my waves but still leaves my hair with body. I'm left with hair that looks like it's had a blow out. Not a curled blow out. It's also so quick! I actually purchased the travel size of this tool which is $35! So it takes me a couple passes over each section, but I'll take that over sweating and arm cramps any day!
---
So those are my hot weather beauty must-haves – I hope I've helped you discover some new products that will make your summer easier! Leave some of your favorite hot weather beauty must-haves below.