Decorating your space can be a daunting task. Choosing furniture, rugs and the overall layout of the room are all big milestones but are easy compared to choosing and styling smaller decorative pieces. Styling your shelves may seem like an easy task but, once you get started, you'll realize how difficult it can be. You want your home to look great but also be functional; I don't know about you but my house is no where big enough to have shelves that are just for decoration. How you style it can add interest to a room or make it feel cluttered and unfocused. Keep reading for some tips on styling your shelves.
---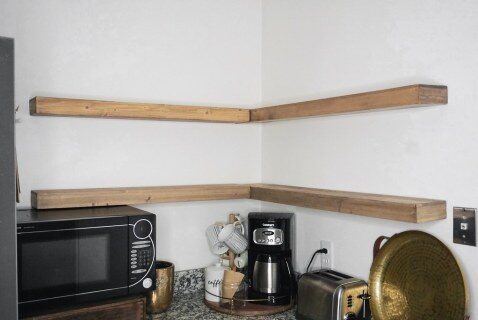 I'm going to be using these open wood shelves that are in my kitchen to demonstrate. Sure, I could just stack it with random kitchen stuff but then the room would look messy.
The idea is to use these shelves to display kitchen items that are too good-looking to shove in a cabinet but that will also get used frequently.
First I'm going to talk about choosing which items and the order in which to style them on the shelf and then I'll add some styling points on how to arrange them.
---
Add Functional Items First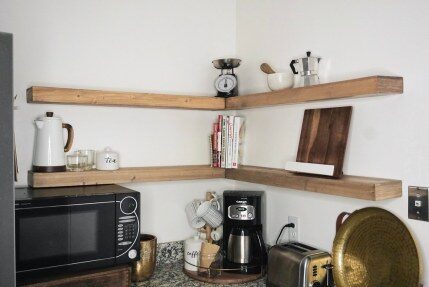 Where is your shelf and what are you using it for? Since I'm styling kitchen shelves, the functional items I'm using include cookbooks, tea kettle, cream + sugar jars, mortar + pestle, moka pot, cookbook holder and tea bag container. By adding these first you are insuring the functionality of the space. If you started with decor items, you will lose shelf real estate quickly.
You also want to take into account the size/depth of your shelves when placing your items. For example, these shelves aren't super deep so I had to get creative with how I placed the cookbooks. The corner was the only place that was deep enough to keep them from hanging over the shelf.
Add Decorative Items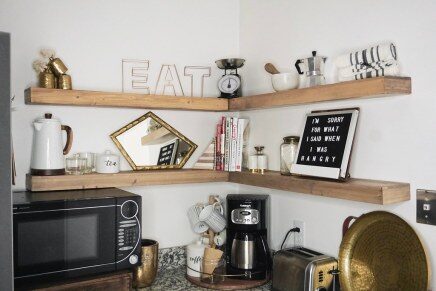 The next step is to add your decorative items. When choosing these, think about the overall color scheme of your room or even your whole house. The continuous color scheme in my house is black/white/gray with wood + mixed metal accents. As you can see in the above photo, all of the functional items fall into that category. The decorative items I've chosen are no exception.
Your decorative pieces serve as the points of interest on your shelves. They can be mirrors, art, sculptural pieces, fabrics to add texture or letter boards. Since the point of these is to create interest, the pieces I've chosen incorporate small doses of gold mixed with natural textures like wood, rope, marble and gray + white cloth. This way there is a balance – it's not too in your face flashy but not too plain either.
Add some Life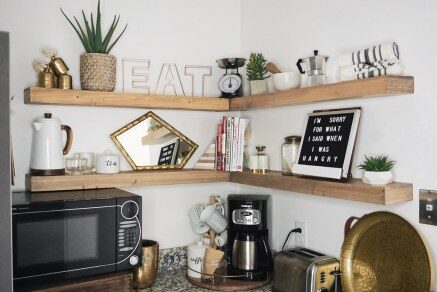 The final touch to any shelf is to add some life to it in the form of plants. Greenery makes your space look alive and natural. My favorite plants to decorate with are succulents, eucalyptus branches, snake plants and pothos because they fit into my modern boho decor style. You can use whatever works for your space and your overall decorating scheme.
Also, using faux plants is totally acceptable BUT make sure that they are believable. I don't suggest using faux flowers as it's not believable that you would constantly have perfect flowers all the time. Faux succulents are the easiest way to use faux plants and placing them in different pots makes them look even more realistic.
---
More Tips for Styling Your Shelves
Clustering items in odd numbers adds more interest that clustering in even numbers
Vary the height and size of your items to create movement on the shelf
Choose items that, not only, vary within your color scheme but also in shape
If choose items in the same color, use texture to add interest
Create layers by stacking items, placing items overlapping others, using bookends to support upright books
Step back and make sure that your shelves aren't over crowded
Keep moving objects around until they work with everything around them
Take your time: this isn't something that will be done in 10 minutes. You may need to play with placement for a few days until you find something that you like
---
Items from my shelves:
Floating Wood Shelves, Target // Wire Letters, similar // Faux plants, Target // Brass Bells, similar // Mortar + Pestle, similar // Vintage Style Scale, Target // Hand Towels, Target // Marble + Wood Bookend, West Elm // Decorative Mirror, similar // Camping Kettle, similar // Tea Container, Target // Letter Board, Letterfolk // Marble Salt + Pepper, similar // Wood Cook Book Stand, similar
---
hope this helps you in your quest of styling your shelves! Your shelves are going to be in a constant state of evolution – after I wrote this post I went and made some changes to balance out the top right .. and that's okay! As long as you like it, that's what's important!